The bank extends leave to its employees to care for sick family members, to accompany a partner in prenatal check-ups, to take young children in their first week of school, pregnancy protection measures to care for children or adoption and foster care processes. These are some of the improvements incorporated in BBVA's new Equality Plan, which also includes protocols against harassment in the workplace and non-discrimination of the LGTBI community.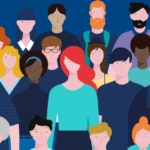 The bank has reached a unanimous agreement with trade union representatives to implement an Equality Plan that aims to achieve real and effective equality of opportunities for all its professionals in Spain. The new plan introduces key improvements beyond current regulations and reinforces BBVA's current policy to promote work-life balance for its staff.
Another key factor in the plan is the drive to create equal opportunities through training and a recruitment and selection policy that ensures equal treatment. In addition, four-year targets are set to promote a balanced presence of men and women at all organizational levels.
The agreement addresses other topics such as remuneration policy, culture and leadership, health from a gender perspective and inclusive communication. The Equality Plan includes BBVA's commitment to step up support for victims of gender-based violence and a protocol against sexual and gender-based harassment, with a range of channels for reporting it and measures to prevent and protect victims.
Flexibility and work-life balance to promote equality
A comprehensive analysis has been carried out for the preparation of this plan, which has led to the introduction of nearly 100 measures, with deadlines for implementation and monitoring indicators. The bank has sought to adopt measures to protect pregnancy and childcare, to help people who have a foster child and those who are about to start an adoption process. A special mention is also made of the commitment to mitigate the needs of workers with children with disabilities. Flexibility and work-life balance measures include the following:
In some working hours, the minimum meal time has been reduced to 30 minutes, and in others the possibility of a continuous working day in the summer period is available.
New unpaid leave of up to one hour a day to accompany children under 5 years of age to school in the first week of the school year.
Possibility of a continuous working day after the birth or adoption of a child up to the first year.
Employees with a reduced split working day may opt to work a continuous working day, eliminating the midday break.
Five hours of effective working time are established for 24 and 31 December and 5 January.
New pool of 10 paid hours per year for medical check-ups and diagnostic tests for employees and first-degree family members.
New leave to accompany a pregnant partner to prenatal examinations.
New paid leave in case of birth of a disabled child of 22 working days within the first three years. This leave is extended to cases of adoption of children with disabilities up to five years of age.
Extension of leave for death of spouse, partner and children (from 5 to 15 days) and leave due to accident, serious illness or hospitalization of family members up to second degree and cohabitants (from 5 to 6 days).
Zero tolerance for harassment of any kind
With the commitment to take firm action in the event of conduct constituting harassment, we have drawn up a protocol against sexual harassment and harassment on grounds of sex, which forms part of the Equality Plan, as well as a protocol on harassment in the workplace.
In addition, we have drawn up a protocol against harassment against LGTBI people, together with a set of measures to achieve equality for people who form part of this group. The aim is to achieve real and effective equality, to guarantee the rights of LGTBI people in the company and to establish a procedure for reporting cases of harassment motivated by sexual orientation, sexual identity or gender expression. In addition, there is a commitment to train staff on sexual diversity.
Both papers express BBVA's absolute rejection of this type of conduct and its commitment to prevent, detect, correct and sanction any type of workplace bullying, cyberbullying or harassment through social media.