Carlos Torres Vila: "Financial education is essential to promote a sustainable and inclusive growth"
BBVA Group Chairman Carlos Torres Vila stressed during his presentation at the opening session of the 2021 EduFin Summit the importance of financial education, which he considers "essential to promote a sustainable and inclusive growth." Also participating in the event was Bank of Spain's Deputy Governor Margarita Delgado, who underlined the importance of education to foster change toward a more sustainable world.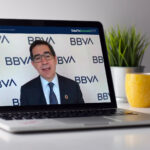 In the current context of disruptive changes and recovery from the crisis triggered by the pandemic, BBVA's Group Chairman emphasized the "need for a growth model that is more inclusive and sustainable." In this sense, he explained that money is one of people's greatest concerns, and that improving their financial health is crucial to achieve financial well-being. To this regard, he added that "those with a higher level of financial education are much more likely to deal in a better way with unexpected emergencies."
Carlos Torres Vila said that the COVID-19 crisis has accelerated some trends, such as digitization, data science economy, new ways of working and sustainability. In his opinion, people need to train and acquire new skills to adapt to a changing world. "We have for a long time now been developing tools to help and train people, enabling them to learn new capabilities the new economy is demanding," he said. In this sense, he added that the bank has been working to bring these opportunities to society as a whole, "because it is our responsibility."
Furthermore, the BBVA Chairman emphasized the importance of financial education in helping people take advantage of opportunities in the transition toward a more sustainable future. "And also to make sure that, in this process, we leave no one behind," he underscored.
From his point of view, this transformation requires innovation and investment. "Investing in sustainability is a smart decision," the BBVA Chairman said, referring to everyday decisions people make in their lives, such as changing the heating system or buying an electric car.
For Carlos Torres Vila, the main barrier in making this transformation a reality is the lack of financial knowledge. "Banks can certainly help people assess the risks and returns associated with these investment opportunities; not only from the point of view of financial education, but also explaining what can be done to contribute to a sustainable planet," he explained.
The BBVA Chairman said that "financial education, digitization and financial inclusion go hand in hand." According to the World Bank, there are currently more than 1.7 billion people in the world who remain unbanked. In developing countries this figure represents more than 50 percent of the population. In this regard, Carlos Torres Vila also highlighted the work of the BBVA Microfinance Foundation, "which offers financial education programs to vulnerable entrepreneurs, who manage to overcome poverty thanks to the foundation's actions."
Bank of Spain's Deputy Governor Margarita Delgado also shared this vision, as she joined a panel of experts from the European Commission, the OECD and the World Bank (IFC).
Delgado explained how sustainable finance has been gaining traction in recent years, as well as the challenges and opportunities for economic agents during the transition toward a greener world. In her opinion, "education is the most important tool to achieve change" and, specifically, "financial education has to do with the promotion of sustainable finances," one of the priorities of the Bank of Spain.
On the other hand, she considers that "digitization and sustainability are twin transitions." In this sense, she noted that "a pivotal issue would be finding out how to drive a digital transformation that works, both for people and businesses, while contributing to achieve climate neutrality by 2050."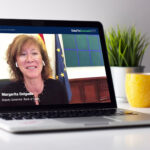 International experts
Organized by BBVA's Center for Financial Education and Capability, the 2021 EduFin Summit is bringing together over 24 international speakers for its fourth edition, who will explore the challenges and opportunities of financial education in a post-pandemic context, and its contribution to a more resilient, equitable and green society . More than 500 guests from 35 countries have already registered.
This global financial education summit is being held virtually over the course of five days, and will take place on May 12th, 13th, 19th, 20th and 26th. All the information on the 2021 EduFin Summit, including the program and the experts participating in each session, is available here.
The world's leading experts in financial education will come together at the events scheduled for the latest edition of the EduFin Summit. They include representatives of international organizations such as: the World Bank, the International Monetary Fund, the Inter-American Development Bank, the Institute of International Finance (IIF), CAF, the G20's Global Alliance for Financial Inclusion, the Center for Financial Inclusion, the United Nations Secretary General's Special Advocate for Inclusive Finance for Development (UNSGSA), and the BBVA Microfinance Foundation.
The academic and research world will also be present, along with the private sector (fintech, financial institutions, insurance companies, large independent consulting firms), social organizations, and consumer and user associations.
Those interested in attending the different sessions of the 2021 EduFin Summit can register at this link for free. Previous editions have been held in Mexico City, Buenos Aires and Madrid.
EduFin Position Paper
One of this summit's greatest developments is the preparation of the BBVA Center for Financial Education and Capability's EduFin Position Paper. This document will present BBVA's position on the main challenges for the future of financial education - the driver to improve people's financial health and facilitate inclusive growth in society. Its proposals and recommendations will be discussed during the summit and the final version will be published in June.
Financial education is one of the fundamental pillars in BBVA's sustainability strategy. Since 2008, the year the bank launched the Global Financial Education Plan, BBVA has invested over €90 million in financial education programs, benefiting more than 29 million people.