BBVA's global financial education event, the 2021 EduFin Summit, will start on May 12th
EduFin Summit, the annual benchmark event on financial education organized by BBVA's Center for Financial Education and Capability, is back after a year of absence due to the pandemic. This year's online edition will begin on May 12 for five days during a three-week-period. Edufin Summit 2021 will address the state of financial education in the post-COVID era and the value of financial knowledge for contributing to inclusive growth, among other topics.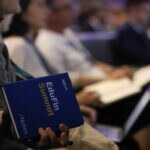 This summit's goal is to create a space for debate and reflection on the new role of financial education in the post-COVID world and the challenges it poses. The interest it has sparked is reflected in the numbers: in the first two days of registration, 300 people from 35 countries had already registered.  
Challenges and opportunities 
EduFin Summit 2021 will address the most important points for today's financial education, such as the need to acquire knowledge in finance to build a society with greater financial resilience. The goal is to create a system that improves people's well-being and helps the transition to a sustainable future. However, a lack of financial capacities can aggravate social problems, such as poverty, inequality or the lack of job opportunities, among others. 
EduFin Position Paper
One of this summit´s greatest developments is the BBVA Center for Financial Education and Capability´s position paper that has been worked on for months by experts who have been with the center since its creation in 2017. The EduFin Position Paper will discuss BBVA's views regarding the main challenges for the future of financial education as a lever for improving people's financial health and favoring society's inclusive growth.
During EduFin Summit 2021,  all proposals and recommendations for action presented for each of the five topics that the event will be devoted to will be publicly debated and will serve to complete the document. The final version will be published in June.
International experts will debate the following issues over the course of five sessions scheduled on different dates throughout May from 3:00 p.m. to 5:00 p.m.
May 12: Financial education for inclusive growth
May 13: The digital divide and access to financial services
May 19: Financial vulnerability and how to reduce it
May 20: Collaborative frameworks to improve financial literacy.
May 26: Financial health and wellness