'Creating Opportunities Together' provides a voice to the faces of BBVA's social programs
Students, teachers, doctors and researchers; micro-entrepreneurs, farmers and small business owners; artists and NGO volunteers... Millions of people around the world are benefitting from BBVA's social initiatives to build a better world for themselves and those around them. Their stories will be featured in the 'Creating Opportunities Together' initiative, a project through which the bank plans to raise awareness and recognize an effort that frequently goes unnoticed.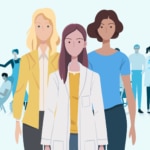 With this new initiative, which will be promoted via a range of advertising and social media campaigns, BBVA aims to raise awareness of the bank's role as a catalyst that accelerates the creation of opportunities. "That's why we give the leading role to the beneficiaries, who are the ones who have to take advantage of these opportunities. It is they who turn them into companies, jobs or new disruptive research," says Imanol Ramos, from BBVA Creative, the bank's in-house creative agency.
"What we are looking for is to change the perspective of how we report our social initiatives. We don't just want to explain the help that BBVA offers to the person or project. We also want to recognize the work of the millions of silent individuals who, through their efforts, multiply the impact of our initiatives, since they are the ones who truly change the world," adds Ramos.
All these human stories can also be found in the Spanish version of bbva.com, BBVA's corporate website. Here, in addition to the testimonials of the faces of BBVA's social initiatives, users can find practical information and useful resources in different knowledge areas, such as education, science and sustainability, among others.
"We want to emphasize that the hundreds of small and large actions we do are aimed at building a better future," concludes Ramos.