Garanti BBVA Vice President İlker Kuruöz, together with Fatih Sarı, journalist and technology columnist, participated in 3T3, a program where they analyzed the pandemic's impact on business.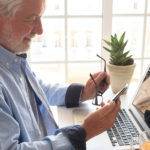 The coronavirus and its aftereffects — including limitations on travel — have become an engine, driving the digital transformation of various companies and in banking specifically. According to Kuruöz, during this phase of lockdown, "digitization has reached new highs in the financial sector," which makes it necessary to continue strengthening the transformation within the sector as much as possible.
As an example of the changing habits brought about by the pandemic, the Garanti BBVA executive explained that customers over 65 — for whom adapting to the digital world is more difficult — have begun using mobile banking more frequently. The digitization of the sector has put banking in the position to pass the 'financial services exam' with flying colors.
In Kuruöz's opinion, the pandemic has also changed and digitized the work model. "We have all begun to telecommute and, we've found ourselves with the opportunity to undertake an important social experiment. We have seen a performance increase." He therefore believes that the traditional model of work could experience changes in the new normal.
We have continued to serve our customers without interruption
The Garanti BBVA executive affirmed that the period from March, when the impact of the pandemic began to be felt in Turkey, to today has represented a significant workload for the people responsible for the technological organization. In the case of Garanti BBVA, years of investing in technology and portable devices for its employees has proven to be a sound strategy. "We made the necessary changes so that employees across our various locations could work remotely in accordance with what we are calling the 'new service model.'  Thanks to these measures, employees have been able to continue working full time, from home, during the pandemic," he explained.
"By using the bank's technological infrastructure, we have continued to provide uninterrupted service to our customers," the bank's vice president said. He went on to stress that "at Garanti BBVA, we have accomplished a complete switchover to remote working, and we've had the chance to see that in this respect we are in good shape."