Christmas brings with it the most anticipated lunches and dinners of the year. With the intention of closing 2020 in the best of ways, the Roca brothers and 'Sustainable Gastronomy' present a culinary proposal based on seasonal ingredients from small producers. This BBVA led project is a commitment by those from Girona who want to stand alongside one of the sectors most affected by this crisis, while raising awareness of the importance of healthy cooking.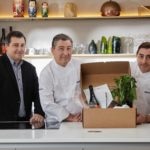 For these festivities, the Roca brothers opt for a leg of suckling lamb, in this case from Mas Marcè, a company from Siurana d'Empordá (Girona) that is fighting to recover the Ripollesa breed of sheep. Joan Roca recommends cooking the lamb inside a thyme pastry dough in order to recover the aromas of a spice that sheep that only nurse their young with milk consume. This recipe is accompanied with carrots and turnips from Horta de Tramuntana (Pau, Girona), which organically grows a variety of traditional vegetables; and with Jerusalem artichoke, a tuber variety provided by Pau Santamaria specifically from a local and organic garden located in Vic (Barcelona) for this recipe.
This Christmas´ sweet touch is provided by Jordi Roca with an easy, but effective recipe for chocolate nougat. The youngest of the Roca's has opted for chocolate bars from Casa Cacao, the new chocolate workshop he inaugurated in 2020. At Casa Cacao they make chocolates using a perfect circle philosophy,"bean to bar." By buying cocoa from producers in small communities in Peru, Venezuela, Colombia and Ecuador, they can pay them a fair price for the best quality. The recipe includes a praline made with hazelnuts, in this case from Finca La Melonera in Villahermosa (Ciudad Real), which grows certified organic nuts. To complete this recipe, cookie cigarettes by Rafa Gorrotxategi, who from Tolosa (Guipúzcoa) is reclaiming artisan pastry as high gastronomy.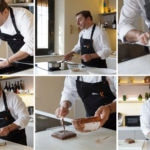 Step by step of Jordi Roca's chocolate nougat recipe - BBVA
For the liquid part of the meal, Josep Roca, sommelier at El Celler de Can Roca, recommends an Odorous sherry, this time an Amoroso Maestro Sierra D.O.Sherry. "This is a loving wine to comfort the soul during these lovely days," explains the master of wines. A sweet wine to savor a history of integration, while embracing the fascinating world of sherry guided by the women of Maestro Sierra. "To taste Maestro Sierra, is to drink a piece of one of the best examples of sherry craftsmanship," says Josep.
To finish off the meal, how could it be otherwise, the Catalans opt for an Albet i Noya Brut Reserva D.O. Clàssic Penedès sparkling wine, the first brand to classify in certified organic farming.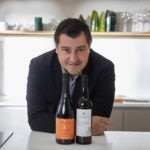 Josep Roca with December vines - BBVA