The town of Villamayor de Gallegó in the outskirts of Zaragoza will host the wind farm that Enel Green Power Spain will build as part of an agreement with BBVA. The 10 wind turbines in the farm will provide 30% of the energy BBVA consumes in Spain.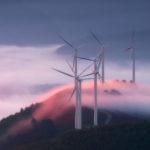 Endesa's renewable energy subsidiary will start construction on the "Primoral" wind farm in July, creating around 100 jobs. The wind turbines will measure 114 meters tall up to the rotor shaft, and will each generate approximately 3.465MWh of energy. This represents an 88,050 ton reduction in CO2 emissions on an annual basis - the equivalent of 27,281 homes' annual consumption.
When all of the turbines are fully operational - most likely in 2020 - the wind farm will have a production capacity of 34.64 MW. This renewable energy production will cover 30% of BBVA's energy consumption in Spain. Endesa will provide the remaining 70% through its traditional model based on green certificates - both for corporate buildings and the network of branches.
BBVA in Spain consumes 237 GWh of energy per year - equivalent to the consumption of 67,500 homes - or all the homes in the province of Soria. Endesa provides 100% of this energy at a set price and with a guarantee that it comes from renewable sources.
The Villamayor de Gallegó wind farm will be a reality thanks to BBVA's long-term power purchase agreement (PPA) with Endesa. Contracts of this kind demonstrate the bank's commitment to sustainability, while also enabling significant energy savings. The bank will pay a set price for the electricity from the wind farm, with an annual savings of approximately 15.6%.
The project is part of BBVA's Pledge 2025 through which the bank aims to reduce its CO2 emissions by 68% to 90,000 tons and increase the amount of green energy it consumes to 70%, in addition to other objectives. In a similar vein, BBVA joined the RE100 initiative, which commits the BBVA Group to using renewable sources for 100% of the energy the bank consumes around the world before 2050.