The foundation, Inspiring Girls, and BBVA organized a stirring event where Tilly Lockey, the girl with bionic arms, and Gema Hassen-Bey a Paralympic fencing medalist, shared their personal testimonies of achievement and strength. The overarching message to the well-attended audience comprised mostly of girls and young people was: you can go wherever you want with conviction and effort.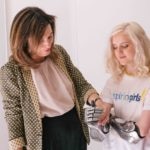 During the event entitled, "Unbeatable and Human. Finding their strength in the face of adversity," Tilly Lockey and Gema Hassen-Bey shared their personal stories of overcoming hardship with a group of young people. At only 13, Tilly travels the world to talk about the challenges she had to face from a very young age. When she was only 15 months old, she lost part of her arms to meningitis, and now she wears bionic hands. The young woman from England explained during her presentation that the most important thing for her has been her resolve to achieve something, to never give up, no matter what.
For her part, Gema Hassen-Bey, an elite athlete on the forefront of the world of Paralympic fencing, insisted one has to fight for her dreams and get on with it "because if you make the move, the world will move with you."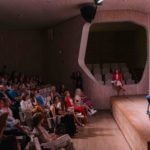 Gema Hassen-Bey on Inspiring Girls and BBVA event - Inspiring Girls
"To Have Tilly and Gema with us, telling us their life stories and conveying their experience is a real treat and an inspiration to anyone, but especially to girls" said Marta Pérez Dorao, president of the foundation, Inspiring Girls. The powerful testimony of these two women will help girls "face many moments of doubt in the coming years and to make decisions about how to approach their lives and careers."
According to Cristina de Parias, country manager at BBVA Spain, "with activities like those we had today, we are helping girls improve their self-esteem and increase their professional ambitions, encouraging them not to accept barriers that prevent them from studying or going for the job that they want." The head of the bank in Spain explained that "at BBVA, we have long understood that our role in society is changing. And this purpose we have set ourselves, 'to  bring the age of opportunity to everyone' also applies to diversity."
Tilly's eye-catching arms or Gema's wheelchair become anecdotal when you hear them tell their stories. Lives that speak to the overcoming of fears and difficulties, but also of learning. Ultimately, they are the leaders and models for a generation of future women.