BBVA Compass President and CEO Onur Genç has been on the job for just six months, but already, he sees a wealth of opportunity for BBVA in the U.S.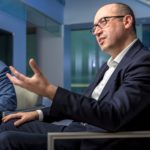 Genç,who came to BBVA Compass in January 2017 from BBVA's Garanti Bank in Turkey, recently sat down for an on-camera interview to share his views on the U.S. market, and the growth potential he sees for BBVA Compass. Genç said that despite the headwinds for the U.S. economy in the past few years, BBVA Compass is stable and ready to grow, having built a strong foundation during the difficult times.
"We decided to invest in our future and focus on the thing that we know the best, which is our customers," Genç said. "We invested in a new core banking platform, spending a lot of time in making sure that our infrastructure is ready to serve our customers in the best way possible."
We decided to invest in our future and focus on the thing that we know the best, which is our customers
Genç also pointed out the rewards that the upgraded infrastructure and investment have yielded, including being handed the Javelin Strategy & Research's Mobile Banking Leader in Functionality Award for three years running, and in 2015 being named by Money Magazine as the best mobile banking app in the country.
"There are 5,200 banks in the U.S. and we were selected as the best mobile app," he said. "I take pride in this, and it's the result of what we have built in the previous years."
Moving forward, Genç said, BBVA Compass would achieve its two key priorities - profitable growth and becoming a digital challenger - by building on the previous years' momentum and focusing on its role as a service organization that aims to achieve excellence in customer experience through digital differentiation and its branch network.
"Let me share with you how we think about digital," Genç said. "The whole notion is around the customer, not around digital. Digital is a means."
Genç concluded by underscoring the importance of serving the needs of all the bank's stakeholders, saying that its mission and brand promise were clear about serving its communities and customers well.
"At the end of the day," he said, "whatever we do, we are people serving people."