"We value measures that give sustainable financing a boost"
BBVA hosted the forum "Energy Transition Opportunities for the Spanish and European economies." During the event José Manuel González-Páramo, stressed that "At BBVA we highly appreciate the proposed measures, not only the draft legislation on climate change, but those measures that have been taken by other countries (France, Poland, and Ireland) that give sustainable financing a boost by issuing green bonds."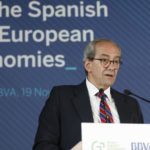 BBVA's Executive Director and Head of economics, regulation, and public affairs underscored that "We are convinced that a similar measure in Spain would be a stimulus for the market and would contribute to emphasizing how important it is to for all parties to be involved in promoting sustainable financing."
With Hugo Moran, Spain's Secretary of the Environment in attendance, BBVA's Executive Director emphasized the "considerable importance" of the proposed future regulation, which will ensure Spain's compliance to the Paris Agreement on climate change and to European Union guidelines. "The creation of a stable regulatory framework, with the appropriate incentives and that promotes necessary investments while taking into account market realities is key to a successful transition." he explained.
"At BBVA we are aware of our role as a business in the fight against climate change"
González-Páramo pointed out that according to the European Commission, in Europe alone there is a €100 billion shortfall in additional annual investment needed to achieve the 2030 energy and climate goals. "At BBVA we are aware of our role as a business in the fight against climate change. Our Pledge 2025 deals with climate change and sustainable development, and we will work hard to meet the objectives we have committed to," he concluded.
BBVA's Head of Global Finance, Ricardo Laiseca, also participated in the event. He outlined the three pillars that make up the bank's sustainable funding strategy: "financing, management, and engagement."
"Banks play a key role in the development and promotion of sustainability and in the fight against climate change, which is why at BBVA we decided to position ourselves as the market leader in green loans and bonds for corporate and institutional clients. In addition we have coordinated our efforts to offer innovative solutions to our retail customers, such as the new investment fund in socially responsible companies", he explained.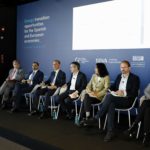 Roundtable participants: in the center, Ricardo Laiseca, Head of Global Finance at BBVA.
Laiseca specifically addressed the bank's growing range of sustainable products for customers, in addition to the approval of its framework for issuing sustainable bonds. He also mentioned the introduction of regulation in sectors such as mining, energy, infrastructure, and agribusiness, which aims to minimize potential negative impacts, both indirect and direct.
Finally, BBVA's Head of Global Finance delved into the importance of constant dialogue to help customers with this transition and he reaffirmed BBVA's strong commitment to analysts, investors and European authorities with respect to the European Commission Action Plan.
For his part, Spain's Secretary of the Environment Hugo Moran, remarked that "the cost of inaction could end up being much more costly than launching new measures." In this spirit, he asserted that "The green economy has become the great opportunity. Being sustainable is good business", he explained. Regarding the draft Climate Change and Energy Transition legislation, the Secretary of the Environment reiterated "the priority is clear: to have a transparent and convincing framework that sends the right messages to investors and provides some certainty to society."
The event, organized by the European Alliance to Save Energy (EU-ase) and the Spanish Group for Green Growth (GECV)- included participation from Dominique Ristori, Director-General of the European Commission's Energy Department; Joan Herrera, Director of Spain's Institute for the Diversification and Saving of Energy; Valvanera Ulargui, Director of the Spanish Office for Climate Change; and representatives from the principal companies on Spain's main stock index, IBEX 35.