BBVA's digitization process in South America solidly advances. At the end of January 2018, 49.9% of customers in South America interacted with the bank via digital channels. This represents an increase of 26% from last year's figures. The increase stands at 43% if we reference customers who connect using mobile devices. "BBVA's mobile banking has seen such intense growth that it indicates where the consumption habits of the bank's customers are going. That's where we've been headed for some time now," explains Antonio Bravo, director of Business Development and Digital banking for BBVA South America.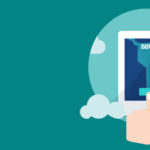 "We're stepping up the development of the best digital and mobile banking platforms in all the countries where we have a presence. South America is a very clear case of success. Last year, in the region BBVA launched new functionality, especially for mobile banking, which allows our customers to sign up for products directly from their cell phones and widens the range of transactions they can perform: credit management, bill payments, and transfers are among the many activities", Antonio Bravo explains.
6.4 million BBVA clients in South America use the bank's digital services and connect through these platforms at least once every three months. 27.5% of BBVA's total digital customer base originates from South America.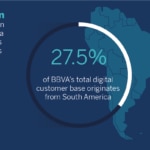 BBVA's mobile banking accelerates its growth until it reaches a rate of 43% per year.
Leading the transformation in South America
BBVA is leading the transformation and digitization of banking in South America by developing innovative products and services that make the lives of our customers easier. Forrester recently recognised BBVA characterizing it as the entity with the best mobile app in the world, after an analysis of 53 institutions across 18 countries. BBVA is the first bank to reach a score of 90 points, a record high in the category of online banking.
The principle objective of BBVA's strategy, which is focused on the digitization of its products and services, is to improve the experience of their customers. In the different countries of the region, BBVA offers its customers digital tools to address their needs and requests, every day providing more. BBVA Wallet is an example, an electronic wallet that lets users perform transactions from their cell phone; in its first year there were 840,000 downloads in South America alone.
Recently BBVA's digital customer base in Spain, the United States, and Turkey exceeded 50%.