BBVA global equities business expands to Hong Kong and New York
In 2019 BBVA Corporate & Investment Banking took a decision to boost its equities business for institutional and corporate clients. Since then the bank has been working on two vectors: on one hand, developing its equity investment products factory; and on the other, revamping its digital solutions for product distribution. In this line, and to further advance in its growth plan, the BBVA global equities business opens two trading and sales hubs in Hong Kong and in New York.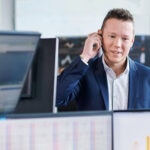 Since 2019, BBVA Corporate & Investment Banking (BBVA CIB) has been upgrading its technological platform to improve the scalability of its equity investment product platform. At the same time, the bank has focused on improving its digital distribution channels globally. From the outset, this has been an ambitious bet that is already beginning to bear fruit in the form of different types of deliveries.
In May 2020 BBVA launched the epricer, a web-based price discovery tool for its equities and credit-linked structured products. In November 2020 the bank concluded the development of a new cloud-based tool named C-Fit to boost the equity team's efficient and robust risk management capabilities. Later on in the year, a new business line was created to focus on the design, manufacturing and distribution of Quantitative Investment Strategies. A complete family of ESG indices has been available since the first quarter of 2021.
Following the same strategy to build a robust, diversified and global investment product franchise, BBVA is now setting up two equity trading and sales hubs in Hong Kong and in New York.
New trading and sales hubs in Hong Kong and New York
Contributing to the renewed BBVA CIB strategy in the US, a full-fledged equity hub is being consolidated in New York where the trading desk for US equity transfers from Mexico City as well as Marc Fauvain, responsible for this desk. Additionally, the bank has recently set up a specific local securities issuance programme, thus enabling US investors to access BBVA's investment products. The new trading desk, together with the distribution team in New York, will be able to add more value to BBVA current and future clients both in the US and in Latin America.
The Hong Kong hub will be a local extension of the global product capabilities of BBVA in the manufacturing of structured investment products for private banks and asset managers in Hong Kong and Singapore, both through traditional and digital channels. Last July Eric Michl joined BBVA from Natixis to lead this new global equities activity in Asia.
Roberto Vila, Global Head of Equity at BBVA, comments: "The addition of two regional hubs, fully aligned and integrated with our operations in Madrid and Mexico City, is a key milestone for BBVA in achieving a high-quality local delivery of global investment products."