BBVA Research: "The Spanish economy will grow around 2.7%, with an upward bias in 2016 and a downward bias in 2017"
BBVA Research maintains Spain's growth forecast at 2.7% for the 2016-2017 two year period, according to its recent report Spain Economic Outlook. Chief Economist for the BBVA Group and Director of BBVA Research, Jorge Sicilia, and Chief Economist of Developed Economies at BBVA Research Rafael Doménech presented the report today. BBVA Research indicates that "in 2Q16, the economy could see four consecutive quarters of GDP growth around 0.8% (3.2% annualized), which would mean an upward bias for 2016 forecasts." The growth of the Spanish economy is expected to create approximately one million jobs in two years. However, some strongholds are weakening. This and other foreseen risks mean a downward bias for growth in 2017.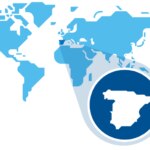 The Spain Economic Outlook report indicates that the Spanish economy will maintain 2.7% growth over the next two years, with an upward bias in 2016 and a downward bias in 2017. If Spain had not experienced increased uncertainty over its economic policy from January to April, accumulated growth could have been eight tenths higher. In order to reverse this impact, an ambitious reform process should be implemented to increase potential growth. BBVA Research presented a proposal to increase efficiency and equity in the labor market.
Fragile global growth, vulnerable to risks and uncertainties
Data available for the first quarter of 2016 confirm the stabilization of global economic growth at even lower rates, although slightly higher than the end of 2015. The quarterly increase in global GDP would have been 0.6% (2.6% annualized). However, the growth rate could accelerate in the second quarter if the positive trend in several indicators consolidates.
"The global outlook has improved over the last three months, due to the interruption of the downward adjustment in global growth and declining financial markets," reports BBVA Group Chief Economist Jorge Sicilia.
However, the global economic outlook remains complex due to mediocre global growth with warning signs coming from weak global trade and financial markets that are closely watching the Chinese economy, commodity prices and the measures adopted by world's biggest central banks.
Given this international economic environment, BBVA Research considers the growth of Spanish exports especially important for growth. The export sector is expected to experience the highest growth rate of developed economies, and in particular of European economies, over upcoming quarters (between 1.6% and 1.9% for 2017).
Spain: 2.7% growth with an upward bias in 2016 and a downward bias in 2017
BBVA Research calculations indicate that the economy with grow 2.7% in both 2016 and 2017, making it possible to create approximately one million jobs during the two year period. The unemployment rate is expected to drop to 17.5% by the end of next year. Despite the positive outlook for the labor market, there is still a long road ahead to create more, and better quality jobs.
Recent data indicate that job creation and domestic demand will maintain their momentum. The tail winds that supported recovery will continue to do so over the next two years, although less intensely. Available information suggests that in 2Q16, the economy could see four quarters with GDP growth around 0.8% (3.2% annualized), with no signs of slowdown for the time being.
This growth can be explained by robust domestic demand, especially household consumption, supported by higher household disposable income, lower income taxes and job creation. Furthermore, investment in machinery and equipment - at an all-time high - has continued the positive trend forecasted a year ago, bolstering the continued growth in the export of goods. Finally, international sale of services will continue seeing particularly high growth, with tourism above all other services, despite the slowdown in global trade.
Although the economy will continue enjoying the support of certain tail winds, others are abating. For example, the relatively low price of oil has had a positive impact on the disposable income of households and companies. A partial reversal was noted in the last three months, however, which seems to be more related to supply factors than higher global demand. Monetary policy will also remain expansive, but its effects on the economy are dying down as nominal interest rates have little margin to decrease and the euro exchange rate has appreciated over recent months. Finally, the expansive fiscal policy of 2015 will become neutral in 2017. This, in conjunction with some risks forecasted in the previous Spain Economic Outlook occurring and continued uncertainty over the future of high level economic policy translate into a downward bias for 2017 growth.
Although economic decline from greater uncertainty over economic policy is not evident, this does not mean that it is not affecting GDP.  "In order to reverse this impact, an ambitious economic reform process that consolidates growth and creates high quality jobs should continue," BBVA Chief Economist Rafael Doménech maintains. BBVA Research recently released its proposals to promote comprehensive reform of the labor market in order to improve efficiency and equity, as unemployment and temporary contracts were the main causes of higher inequality during the crisis.
Furthermore, the public deficit missed its target in 2015 by more than expected. BBVA Research's calculations suggest that the deficit adjustment in 2015 was essentially cyclical and if discretionary measures were not adopted, the government as a whole would have met the established target of 4.2% of GDP.