BBVA now has more than 15m mobile active customers across its global footprint, as its digital strategy continues to prove a success.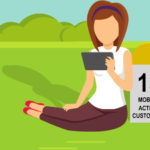 The number of customers using mobile as their favourite way to access the bank´s services has grown by more than 40% in the last 12-months alone. The levels of interaction with the bank via mobile are also accelerating as more and more services become available.
In Spain, for example, where 92% of products and services will be available via mobile by year end, interaction rates have multiplied by almost two and a half times in a little over a year - from 23.8m interactions per month in May 2016 to more than 56m 12-months later. Meanwhile, during that time, visit to the website from non-mobile devices grew slightly by a little over 2.5m interactions a month.
The news comes just a couple of weeks after BBVA announced it now also has more than 20m digital customers and is exceeding 1m digital sales each month. The most used service by customers accessing the bank's services from their app is unsurprisingly balance checking, with payments and balance transfers also prominent.
In fact,  the BBVA app was recently recognized by Forrester Research as the best in the world, based on an analysis of 53 banking institutions from the United States, Germany, France, the United Kingdom and Australia.
Commenting, BBVA's Global Head of Customer and Client Solutions, Derek White, said: "It's a great, and expected, milestone to have passed. It's been clear for a long time that as customers do more and more on their phones, from chat services to sourcing information to buying things, banks need to be where their customers are and offer a great experience".
"It's this that is driving the uptake. Giving customers the ability to quickly, intuitively and seamlessly access their banking data when and where suits them best, so they can manage their financial lives more effectively" Derek White said. He added that for him, though, what was really exciting is where this interaction goes in the future, with our Mia chatbot service in Turkey an example. Mia allows customers to have real conversations with Garanti's mobile banking app enabling them to perform transactions, get information and understand their financial situation.
White said: "Going forwards the way our customers interact with us, rather than just transact with is, is what will matter. Wrapping each of those interactions in real time data both from within and outside BBVA, so we help customers understand the choices they make in a smarter way. That's the future we are aiming for, one where mobile and voice are integrated and customers use whatever medium they are most comfortable with. As we see these statistics increase month by month around usage, it's clear our customers value this too."