One of the recurrent themes at this year's BBVA Open Summit was the importance of customer centricity. A great example of this was the panel session featuring BBVA's Global Head of Marketing, Design and Responsible Business, Rob Brown and 11:FS Co-Founder Jason Bates.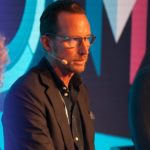 The session - entitled 'Designing for Customer Delight' - was moderated by entrepreneur and author Lisa Gansky and was aimed at showing how irrespective of the size of a business, the focus on customers is the right way to operate.
But there was also a warning about how this focus also means that businesses need to continually improve if they are to satisfy customers, and satisfy them in several different ways.
For example, Gansky used the case of Uber, which launched in Los Angeles in 2013. At the time, she said, customers were prepared to wait about eight minutes for a car to pick them up. A year later it was just four minutes and six months after that it was down to two.
She said: "So we have to, even when we are leading in categories, we have to disrupt. "There is a continuous necessity to play the game of how do we constantly satisfy people who demand more, if we are to retain or acquire customers."
For Brown, who has worked in everything from start-ups to big banks like BBVA, it starts with the people.
He said: "We are engaged in hiring people who are data lovers, design lovers - at the heart of who they are. These are people who are super-passionate about digital products. The types of people we hire spend their days working with and engaged with digital devices - so we are learning so fast from people who are effectively young entrepreneurs and who are thinking about new products and adding value to BBVA in that way."
Every product that it starts begins with engaging with customers to learn about their challenges and problems and how to fix those.
Lisa Gansky, Rob Brown and Jason Bates during the panel at BBVA Open Summit.
For Bates, who founded UK start-up banks Monzo and Starling, he said that rather than look at customer expectations, he took a different approach and instead focussed on what he called the brutal realities of customer's lives.
He said: "Actually with Monzo and Starling and the work we do with 11:FS I see it as being the people who win are those who are most in touch with the most brutal realities in customers lives.
"So it's what are those brutal realities that we all face because in the end most banks aren't delivering to those. You can access a financial product, you get a card, a statement, a balance, a list of transactions and the ability to transact, and then there's this massive gap, this service gap, between all of the things I want to do. . .like how am I doing this month, can I send money to my friends, I´m trying to save for five things at the same time and managing all of this personal finances.
"And so for me it's not about eight minutes or four minutes, but rather wow, this product resonates with the customer."
So where next and how does a huge organisation like BBVA achieve this?
For Brown and BBVA, it's about the triangle and 3, 6, 9. The triangle for BBVA is design and data; engineering; and business development - and the bank will not start a project until all those elements are in place. 3, 6, 9 is about getting the team together in three days, a prototype within 6 weeks and into the hands of customers and clients within nine months.
My challenge is finding the design talent we need in all the countries we operate to do this, because without it we can´t understand the needs of customers
He added that to solve this challenge, BBVA was looking at innovative solutions like its World Pass scheme - that allows young designers to travel to and work in countries across its footprint.
He said: "For us this is critical. The people we want to hire, the people who can solve the customer need, they are often innovators themselves. And what we have seen is that they want to experience different cultures and challenges themselves - to solve different customer needs and build solutions.
"The World Pass gives them both the opportunity to learn, see and experience, but it also, crucially, works as a catalyst for new ideas - the kinds of ideas that will transform the face of banking in the future.
"For me, this is how we ensure we design with the customer at the heart of what we do."