According to the National Retail Federation (NRF), the average family will spend nearly $700 on the return to school this year, contributing to the nation's projected back-to-school spending total of $29.5 billion — the second highest figure on record and an 8 percent increase from last year. Although consumer confidence seems to be on the rise, BBVA Compass realizes that budget and convenience were probably still two core subjects in a parent's back-to-school shopping curriculum this year.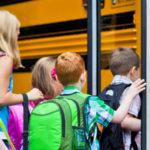 For many parents, the summer break flew by faster than anticipated and long awaited was the yearly ritual of back-to-school shopping. This year, parents are expected to spend more than in the last four years, according to NRF. Although parents probably dished out more cash this back-to-school season, conveniently managing a budget was probably still a priority. Here's a quick back-to-school checklist/crash course to help parents assess if they kept overspending at bay with ease.
Did you activate mobile banking alerts?
Lesson 1: Some mobile banking apps, such as the BBVA Compass Mobile Banking app, can help parents keep the back-to-school splurge within their budget by allowing them to receive notifications based on customized account settings. With the mobile banking app, real-time alerts can be received when an account exceeds balance or withdrawal preferences. Alerts can also be helpful tool for parents to keep tabs on their account activities and avoid overspending when lending their debit and credit cards to their children for back-to-school shopping.
Did you have a digital wallet?
Lesson 2: Digital wallets compliment mobile banking apps and have perks not found in a leather, back-pocket money-holder. With the BBVA Wallet app, parents may be able to keep their budget afloat with instant mobile notifications about every debit and credit card purchase. In addition, the BBVA Wallet app can help parents safeguard their bank accounts and avoid an unexpected hit to their budget during the back-to-school rush. With the app, transactions can be temporarily blocked if a debit or and credit card is misplaced. If parents realize their card is completely lost, or worse — they receive notifications of transactions that they did not make —, they can report the card to BBVA Compass as lost or stolen via the app. For an extra layer of security, the BBVA Wallet app also has an option to update a card's pin number.
Did you take advantage of mobile transfers?
Lesson 3: Mobile transfers may be a helpful tool for parents with children in college. Back-to-college spending, according to NRF, is expected to hit $54.1 billion this year, a nearly 12% increase from last year. The average family is expected to spend nearly $970 on back-to-college shopping, surpassing 2016's average of $888. As the return to college seems to become more costly, budget management is probably a goal for many parents. Instead of lending out their debit and credit cards for shopping, parents may be able to keep their budget in tact by transferring funds to their children. The BBVA Compass Mobile Banking app gives parents the capability to directly send money, whether their children bank with BBVA Compass or another financial institution. With Secure Send, the app also gives parents the capability to send funds internationally — over a network of 20-plus countries — to their children who may attend college outside the U.S.
Did you redeem your reward points?
Lesson 4: Most credit cards offer reward points, and parents may be able to offset their back-to-school spending by redeeming their previously accumulated points for account credit. BBVA Compass offers a series of credit cards that rewards points on all qualifying purchases with no earning caps. Furthermore, with BBVA Compass Visa credit cards, parents can build up even more points with Build Your Own Rewards, a key feature of the CompassPoints Rewards program, which allows the option to choose from select categories each quarter as a way to double or triple earnings. If parents have BBVA Wallet, they can redeem their accumulated rewards, via the Real Time Redemption feature, to partially or entirely cover their next purchase¹. On top of the CompassPoints Rewards benefits, BBVA Compass' Simple Cash Back program extends the opportunity for parents to receive relevant cash back offers based on their purchase history with specific merchants.
Did you make it convenient for yourself?
Lesson 5: Mobile banking apps can offer convenience, a contributing factor for many parents taking part in the back-to-school rush. The BBVA Compass Mobile Banking app offers Touch ID®, finger authentication and a "remember me" option which can help parents securely access their online account(s) faster. The app also provides a "I Want To" menu that can recommend and provide quick navigation to the features commonly used. A "quick view" feature provides the capability for parents to view their account balances and most recent transactions by swiping left on the app's login screen. The app's cash management features, such as Mobile Deposit² and Payments & Transfers, could contribute to the on-the-go banking experience for parents who are in the midst of back-to-school shopping. In addition to the app, parents with eligible BBVA Compass debit and credit cards are able to use Apple Pay® with their compatible iPhone® to make purchases.
---
For more information on BBVA Compass digital banking services, click here. For back-to-school saving tips, click here.
¹Redemptions of CompassPoints through a BBVA Wallet transaction alert can only be conducted within 24 hours of receiving a transaction alert. Alerts for card transactions and reward redemption are subject to service availability to your mobile device and cannot be guaranteed by BBVA Compass. Alerts are subject to merchant billing practices and may not be received until your card is charged for the purchase price. An inventory of points must be available in the account to redeem. ²Mobile Deposit is subject to eligibility. See Terms of Use for details. Mobile Deposit is a registered trademark of Mitek Systems, Inc. 
iPhone, Touch ID, and Apple Pay are trademarks of Apple Inc., registered in the U.S. and other countries.