BBVA, the first bank in Spain to offer contactless cash withdrawals
BBVA is the first bank in Spain to allow zero-touch cash withdrawals from its ATMs, called 'contactless ATMs'. This new way of accessing cash not only streamlines the process, it also provides additional protection to customers during times of pandemic.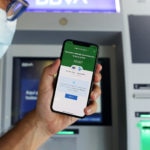 BBVA customers in Spain will be the first in the country to be able to use ATMs without making physical contact. The new cash withdrawal option will be available in the bank's mobile banking application under the card transaction section. The contactless ATM digital solution will use geolocation to find the cash machines closest to the customer. It will also ask what amount of cash is to be withdrawn. As an additional security measure, customers will have to introduce a code that they will receive on their phone in order to complete the transaction.
Once the customer reaches an ATM with near field communication (NFC) technology, s/he only needs to use his or her smartphone following the same steps as when making a mobile payment. To conduct the transaction, the customer should approach the ATM to collect his or her cash, without ever having to touch the ATM screen or keyboard. Customers can withdraw up to €300 per day using this functionality.
To take advantage of this new feature, customers should have downloaded the BBVA mobile application and have activated mobile payments linked to a card, either BBVA's proprietary mobile payment functionality, Google Pay, Samsung Pay, or Apple Pay.
"This evolution in ATM functionality aims to broaden the services that we offer our customers, taking advantage of all the functionality that is already integrated into their smartphones. They can already pay using their phones and now they can withdraw cash, all with zero physical contact. In addition to being a totally secure and efficient system, it takes on even more importance because of the health benefits for our customers," explains Rafael López Gracia, head of Customer Systems for BBVA Spain.
Measures to curb the spread of COVID-19
From the onset of the health crisis, BBVA's priority has been the health of its customers and employees.
When the state of emergency was lifted, limitations placed on travel and movements were also lifted. Against this backdrop and with the objective of helping customers follow safety and hygiene protocols, BBVA recommends using their appointment-making functionality to make an appointment to visit a branch, thereby preventing an overflow of people at the branch offices.
The health crisis has underscored the importance of digitalization, proving the advantages of remote banking to more traditional customers who had not yet leveraged the bank's digital channels. This year between March 15th and May, BBVA increased its digital customer base by 250,000 customers. Furthermore, because virtually 100 percent of banking transactions can be done remotely with 800 features available in the BBVA app, close to 20 million trips to the bank were avoided during the worst months of the pandemic.