The latest reports and statistics show that financial education is still unfinished business in Chile. According to the consulting firm Adimark's study on young people's financial behavior and knowledge commissioned by Chile's National Consumer Service , three out of every four Chilean youth who study at vocational and professional training schools (74.3%)  do not know what a financial product is.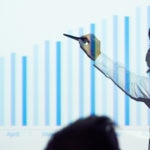 Similarly, 80% of those surveyed gave an erroneous response when asked about debt and 75.3% responded incorrectly when asked about interest rates. Meanwhile, 82.5% of the responses were correct regarding savings.
An important fact to keep in mind is that of the 25.7% of youth who do know what a financial product is, half say they have participated in a financial education program.
There is a consensus across public and private sectors that financial education is essential for the general public and especially for young people joining the job market so that they can make informed and responsible decisions regarding credit cards, mortgages, consumer loans, savings and investments.
Financial education still has a long way to go, even though it has received more attention in recent years from public actor, such as the Central Bank, the Ministry of Economy, the National Youth Institute and the National Consumer Service and private actors like BBVA Chile.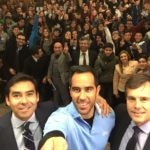 From left to right, Eric Parrado, superintendent of Banks, the soccer player Claudio Bravo and Manuel Olivares, CEO of BBVA Chile. - BBVA
According to the Superintendent of Banks and Financial Institutions (SBIF), Eric Parrado, customers and society in general are demanding greater credibility and trustworthiness from financial actors. One way to build this trust is through financial education. "As a regulator we want people to be better informed and take advantage of the system's benefits, and not feel that the system is taking advantage of them," he affirms.
The SBIF's "First Report on Financial Education in Chile:  Assessment and Challenges" concludes that the public and private institutions' main financial education initiatives address the most urgent and relevant issues at the local level, in line with OECD recommendations.
Among these initiatives, those focused on savings, debt, appropriate use of credit and financial products stand out. The most common channels for these initiatives include information sessions, web sites and workshops primarily geared toward workers, secondary and higher education students, low income groups and micro-enterprises.  It is remarkable that SMEs have only comprised 5% of these types of courses so far.
Of the remaining challenges, the SBIF study mentions incorporating more initiatives for preschool and elementary school students; more initiatives for women, given their increasing participation in the financial system and the gender gaps that still exist; and more initiatives for older adults with higher levels of debt and default and below-average income.
BBVA Chile's active role
The private sector, and banks in particular, are taking on the challenge of educating people to make informed financial decisions, in alignment with the head of education policies, regulators and financial supervisors.
One of the banks that has played an active role in this area is BBVA Chile. More than 25,000 people have benefited from their diverse financial education initiatives so far, including company employees, SMEs and students.
In line with the recommendations of organizations like the OECD and UNICEF that financial education is necessary in all stages of life, BBVA Chile has implemented programs for adults as well as youth and SMEs.
BBVA Financial Education League: online program that teaches essential concepts like saving, responsible spending and personal finance to 14 -17 year old students, with the support of BBVA Chile Ambassador, Claudio Bravo.
Financial education for company employees: in-person and online workshops for company employees. The goal is to contribute to more informed and responsible decision-making while improving company employees' credit health.
Financial education for SMEs: Through the program Camino al Éxito, BBVA Chile gives SMEs essential management tools to lead their businesses successfully.
Financial education for society: BBVA Chile has a website dedicated exclusively to financial education, which covers all the institution's activities in this area and also includes practical tips on savings, financial health and efficient use of bank products. It is also shares messages on financial education on social networks (Twitter, YouTube and Facebook).
At BBVA, we are convinced that financial education is a cross-cutting issue that is relevant to everyone, with enormous potential to create a shared value: for people who need to be increasingly aware of and responsible for their decisions; for financial institutions that need increasingly educated customers because it simplifies the sound management of their business; and for society in general by strengthening the financial system and its sustainability.