The global finance industry is marching to the beat of innovation, especially in retail banking, fund transfers and commercial banking, Argentina is no exception, according to PwC's Global FinTech Report.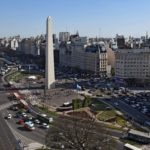 RecargaPay, an Argentine mobile app, has been selected by MasterCard Start Path Global as the first Latin American startup it would rely to simplify and increase security in trade. Only a half dozen startups from around the world have joined this select group. RecargaPay allows its 1.5 unbanked users to recharge their prepaid phones and pay for services.
The Argentine app is one of the 72 non-banking fintech startups that have helped turn the country into one of the most important regional centers, for innovation in the finance industry.  This was the opinion of the Latin America Fintech Startup report, prepared by the Inter-American Development Bank and Finnovista – an organization that promotes the development of fintech companies.  In recent years, over 700 startups have emerged in the 15 different countries in the region. Brazil remains the most prolific, with about 230 companies, followed by Mexico (180), Colombia (84), Argentina (72) and Chile (65).
The star technology in the financial world is blockchain"
Another successful innovation case in Argentina is Primary, which develops transaction systems for capital markets. It was acquired by Rofex, the powerful agricultural commodities futures exchange in the city of Rosario, in the Santa Fe province.
The burgeoning ecosystem promotes the collection of huge amounts of data and builds trustworthy relationships with users, boasting an incredible potential that more traditional players are recognizing.  The numbers tell the story: 56 per cent of executives polled by PWC's Global FinTech Report have put disruption at the core of their business strategy.
The PwC report also found that 70 per cent of the same executives would focus during the next 12 months on investing in mobile technologies and another 64 per cent, on data analysis.
Likewise, 40 per cent of those surveyed are planning to invest in biometrics and identity management; another 28%, in artificial intelligence and 26 per cent in the automation of robotic processes.
Five-year forecast
About 50 Argentine executives, including CEOs, directors and managers of the banking and fintech sectors and other areas of the finance industry, took part in the PwC report, which surveyed respondents from 71 countries.
One of its most notable findings is the significant growth of fintech's influence on the global financial services market. In 2016,
89% of local businesses with more than 50 employees in banking, payments and transaction services, capital markets and related sectors, said they risk losing part of their business to fintech startups in five years. Three out of 10 estimated this loss at between 21% and 40% of their current revenues.
Although four in every 10 consumers still visit bank branches to interact with financial institutions (vs. a bit over 33% by email or online), 88% of the respondents expect mobile apps to continue gaining traction as interaction channel; 83% favor websites and/or web-based platforms, and 77%, social networks.
But the star technology in the financial world is blockchain, an electronic chain of information based on distributed ledger technologies, which use software algorithms to record and confirm transactions anonymously and securely.
About eight of every 10 Argentine organizations are already familiar with the concept. More than half of them have already experienced with the technology at some level and 99% plans to adopt it as part of its productive systems and processes.
The dynamic universe of financial products and services focusing on user experience and the processing of large datasets, known as fintech, has emerged as a powerful driver of disruption.