Francisco González: "I have never seen BBVA as strong, committed and united"
Francisco González, Group Executive Chairman
Transformation: "We've reached a digital tipping point. In six countries more than 50 percent of customers are digital"
Dividend: "Our earnings in 2017 allow us to maintain a very solid stream of dividends, with a clear, predictable and sustainable remuneration policy"
Principles: "We've gone through a deep financial crisis and BBVA emerged from it with a very strong reputation"
Carlos Torres Vila, CEO
Evaluation: "In 2017 we accelerated our transformation, making great strides in the digitization of our business with a huge impact in terms of sales and customer loyalty and satisfaction"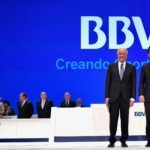 BBVA shareholders today had the chance to hear the Group's top executives share insights into the bank's strategy, present achievements and future plans at its Annual General Meeting (AGM). Francisco González was confident about the bank's "bright future," because he had "never seen BBVA as strong, committed and united around this project."
BBVA's Group Executive Chairman divided his presentation into three parts. First, he focused on the economic and financial context; next, he talked about the 2017 financial results; and, to conclude, he focused on the bank's strategy.
Regarding the global scenario, he noted that the uncertainty of early 2017 faded throughout the year, which helped the GDP growth rate end the year at 3.7 percent. For 2018, "the outlook remains positive," and the global economy is expected to grow 3.8 percent. Regarding Spain, he said that the economy could see a 2.5 percent growth rate, higher than the EU's average. Still, he also said: "We keep postponing issues that are pivotal to our future. We need a broad consensus to promote an ambitious reform agenda."
Reviewing the Group's performance in 2017, he noted that "these earnings allow us to keep a very solid stream of dividends, with a clear, predictable and sustainable remuneration policy."
BBVA submitted a proposal to shareholders at the AGM for the payment on April 10 of a cash dividend of €0.15 per share. In total, shareholders will perceive €0.37 per share in dividends from 2017 earnings. This represents a total payout of 38 percent of the company's profit, excluding Telefónica's accounting adjustment, and an increase of the per-share cash dividend of 36 percent compared to 2016. "From now on, the dividend will grow in line with BBVA's earnings and will be paid 100 percent in cash," said Francisco González.
Finally, he focused on the company's strategic strides. "At BBVA, we've been working for years to properly understand and leverage progress in technology and knowledge," he said.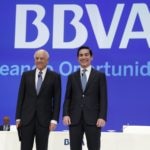 Looking back at 2017, he noted that "we've taken crucial steps in our transformation project." This transformation, in his opinion, is yielding tangible results, which include:
Recognition: Research firm Forrester singled out BBVA Spain's mobile banking app as the world's best in 2017.
Customers: BBVA customers are increasingly choosing digital channels. As of year-end 2017, the bank had 22.6 million digital customers, up 25 percent. Of these, 17.7 million were mobile customers, an increase of 44 percent from a year earlier. In January 2018 the bank added 600,000 new digital customers.
Tipping point: In six countries – Spain, USA, Turkey, Argentina, Chile and Venezuela - over 50 percent of customers are digital. In 2018, the bank projects that over half of the Group's customer base will be digital, and in 2019, more than half of the Group's customers will be mobile.
Satisfaction: Digital customers are more satisfied and more likely to recommend the bank. BBVA also achieved the top Net Promoter Score (NPS) in eight countries.
Exponential growth: Digital customers interact more with the bank and digital sales are growing quickly. Two years ago, one out of 10 sales was digital; in December, the number was one out of 2.7.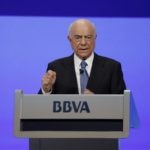 To sum up, the Group Executive Chairman said that "BBVA is rapidly becoming a company that processes and manages data applying the most advanced methodologies, turning it into knowledge. We give that knowledge back to the customer in the form of better, more streamlined and personalized experiences." As examples, he mentioned some of the new apps and features the bank has rolled out recently, such as 'Bconomy' and 'Baby Planner' in Spain; 'BBVA Plan' – a savings tool - in Mexico and 'MIA' – a voice assistant - in Turkey.
Finally, he described how the Fourth Industrial Revolution is affecting the financial sector with the arrival of exponential technologies, new competitors and digital regulations, such as PSD2 in Europe. In this context, he noted that "principles are especially relevant" and expressed his satisfaction for the "high ethical standards and a cutting-edge corporate governance" at BBVA. "We've gone through a deep financial crisis and BBVA emerged from it with a very strong reputation," he said. Francisco González concluded with an optimistic message for the bank's shareholders: "Today more than ever I'm confident in a brilliant future for the BBVA Group."
After the Group Executive Chairman's remarks, BBVA CEO Carlos Torres Vila took the floor. He started his presentation referring to the Group's purpose, which is "to bring the age of opportunity to everyone." In his opinion, the purpose clearly reflects "the chance to create opportunities for our clients, leveraging technology and data to give them a lot more." In order to achieve its purpose, the bank will transition from a money-related infrastructure provider into making a difference in the lives of people and businesses, helping them achieve their vital goals and improve their business decisions," he said.
The BBVA CEO said he took "pride" in BBVA's achievements in its transformation journey. Some examples:
Digital sales have gained traction, driven by the broader availability of DIY products (about 90 percent of the Group's total portfolio). Digital unit sales have almost doubled, from 7 million in 2016 to 14 million in 2017 (5 million of which were through mobile devices).
Digital sales are driving total sales. In Spain, total sales increased 31 percent in the past year, with a 120 percent growth rate in digital channels and 13 percent in the remaining channels.
App design boosts sales. Since we rolled out the app's new design in Spain in September, the sale of products has grown dramatically, with increases in excess of 50 percent, and in some cases of 100 percent, in daily average sales.
Customer digitization drives revenues and reduces costs. In Mexico, the recent digitization of a customer portfolio boosted the gross margin by 10 percent. Also, the cost of opening an account digitally is one third the cost of doing it through traditional channels.
Digital customers are more satisfied and loyal. Compared to traditional customers, the attrition rate is 50 percent lower for digital users.
In short, he said, "in 2017 we accelerated our transformation, making great strides in the digitization of our business, with a tremendous impact in terms of sales and customer satisfaction and loyalty, offering customers solutions that help them make better financial decisions"
Carlos Torres Vila also analyzed the performance of each business area and the outlook for 2018.
In Spain, he expects the credit deleveraging process to conclude, while the banking business resumes the growth of recurring revenues. "We will improve the efficiency even more and will continue posting solid risk indicators." In terms of real estate activity, "losses will narrow significantly."
As for the United States, "the outlook is very positive" with increasing interest rates and lower tax rates, which will boost results significantly.
In Mexico, he considers that the area will continue to perform "robustly across all lines of business", just as it has in recent years.
For Turkey, 2018 will also be "a year of solid economic growth" (above 4.5 percent). "We will keep costs at bay in order to be more efficient."
In South America, he expects "strong growth" in the region, especially in countries like Argentina.
The CEO ended his speech with: "We have a fascinating project ahead of us and you can be sure that we will continue to work to be a better bank for you, for our customers and for society overall."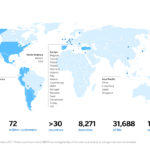 BBVA is a customer-centric global financial services group founded in 1857. The Group has a strong leadership position in the Spanish market, is the largest financial institution in Mexico, and has leading franchises in South America and the Sunbelt Region of the United States; it is also the leading shareholder in Garanti, Turkey's biggest bank by market capitalization. BBVA's diversified business is focused on high-growth markets and relies on technology as a key sustainable competitive advantage. Corporate responsibility is at the core of its business model. BBVA fosters financial education and inclusion, and supports scientific research and culture. It operates with the highest integrity, a long-term vision and applies the best practices.