The new technologies are not an end in themselves but rather a way to improve the customer experience. This was how Ricardo Segoviano, head of BBVA Open Platform Spain, explained it during the presentation event for the 'World Retail Banking Report 2018', which lists BBVA as an example of successful collaboration in the drive to improve the digital banking experience via APIs.
The report was prepared by Capgemini and EFMA and is designed to guide the bank on the journey it must undertake to meet the new digital challenges. During the presentation, Marga García Águila, Vice President of Financial Services for Capgemini Spain, explained: "To be competitive in this new landscape, we need to design financial services based on the use of data, technology, and an agile, digital work environment."
García spoke of the arrival in the sector of new players (fintech start-ups and tech giants), who are beginning to position themselves along the financial services value chain, and of the need to initiate "collaborative relationships" with them to improve customers' user experience.
García explained, "digital customers are constantly expecting more, and users no longer distinguish between sectors when they use digital services." She pointed out that customers now expect the same seamless experience, regardless of whether they are purchasing a retail product or a financial service. The report in fact indicates that the retail industry is the only one to offer a better user experience than banks do, and it also shows that the youngest and most tech-savvy users already clearly prefer to purchase financial services via the digital channel, "but it is precisely these users who say their experience is worse in that channel".
According to García, the key to closing this gap is to meet new expectations by integrating other digital services offered by new players into the customer journey of the bank's clients.
Enriching the digital ecosystem
One way to integrate the experience offered by the other players is to employ APIs — application programming interfaces — that allow different businesses to communicate and exchange information. The report chose BBVA's API_Market as an example of the use of technology to "create infrastructures that support the distribution and creation of third-party products (such as fintech products) in synergy with banks".
This more dynamic and open ecosystem allows the creation of new business models and even alternative entry paths. However, according to Ricardo Segoviano, head of BBVA Open Platform in Spain, in order to accomplish this "the culture of our organisations needs to change". He explained that the drive toward open APIs should not be seen as an obligation to meet regulatory requirements, and that they "go far beyond PSD2" and are a "strategic opportunity" to improve the digital experience of customers "while relying on their consent to share their information".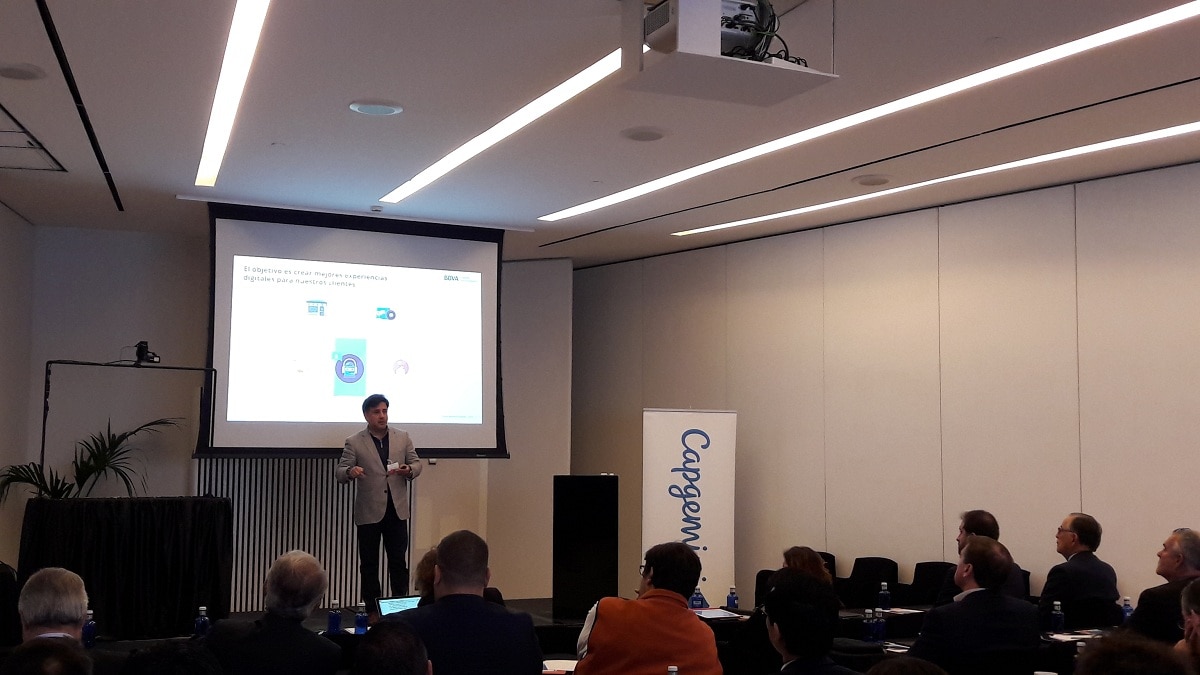 Ricardo Segoviano, during his intervention at the event.
Segoviano stated: "Banks must opt for collaborative models with other companies and sectors that allow the creation of new value-added products and digital experiences for customers." He added that, at the same time, this presupposes a "mechanism that will help businesses make the digital transformation. An example he gave is the PayStats API, which uses the bank's big data in an aggregated and anonymised manner to allow businesses to make better decisions by granting them access to many types of new information, such as when customer traffic is the heaviest and where one's customers live.
Another example is the Alipay API that allows Spanish businesses to offer this payment method to Chinese tourists. Segoviano stated: "By opening up our platforms, we improve the experience of both businesses and end-users." He added that, thanks to this new formula based on open collaboration, users don't need to know who is providing the service in order to "benefit from the results of the alliance".
In this area, Segoviano was in agreement with one of the trends emphasised in the report: making banking services "invisible" so that customers need only make a minimum effort to use digital products. During the presentation, García, the Capgemini executive, noted the case of BBVA's invisible payments, which allow employees to make payments via facial recognition at the Group's headquarters in Madrid, i.e. without having to use a card, enter a PIN, or do anything else.
Segoviano concluded: "Users want the best experience and the greatest ease and convenience, regardless of whether it is provided by a fintech, a bank, or a tech giant – and the only possible way to ensure they get it is to collaborate."