BBVA's digital journey: Where we are coming from and where we're heading
What is BBVA's strategy for transforming the bank into a truly digital company?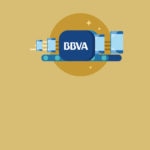 Derek White, Global Head of Client Solutions, explains that one of the driving factors for the bank's transformation was to help its customers interact with the bank. To achieve this, it was key to identify the top fifty reasons why customers would walk into a branch.
Once armed with this data, BBVA began working on making these needs DIY-able, ensuring that customers could instead do most of these things on their mobile devices. Customers thus save time and are able to do their banking with complete autonomy, whenever and wherever they want.
Additionally, the bank developed a detailed catalog of the banking services and transactions, ranging from checking their account balance to applying for a mortgage. The catalog included a total of 973 services.
According to White, this catalog served as the basis for strengthening the bank's DIY offering and also a blueprint for determining how you build services into digital platforms, and how you share them across The Group.  Now, 94 percent of the bank's retail products and services are available as do-it-yourself transactions. The BBVA App launched earlier this year in Mexico is included in this offering and represents the first truly global mobile-banking application.
In fact, the app is the product of the creation engine the bank has developed, built around the transition to an agile organization, and using methodologies typically seen in technology giants like Apple, Google, and Amazon.
White recalls that thanks to the adoption of the Single Development Agenda, the bank was able to improve its product delivery by four times. Additionally, thanks to the global development platform, products are developed once, then they can be reused multiple times across the bank's different operating countries. This process is called the "3,6,9 process" – three days to build a team, six weeks to develop a prototype, and 9 months to deliver the product or service into the hands of the customer.
BBVA's Head of Client Solutions goes on to explain how the mechanical production process across the bank also changed. The process consists of nine steps that ensure homogeneity in developing products and services and uses a wide-range of techniques including behavioral economics, design and user experience, and even back-end processes that include data management and API development.
Additionally, thanks to the global development platform, products are developed once, then they can be reused multiple times across the bank's different operating countries
In White's opinion, the result has been a significant improvement in the bank's performance, as proven by the growth of digital sales (an increase of 24 p.p. in two years) and notable customer satisfaction scores. This last achievement is demonstrated in the Net Promoter Scores where BBVA ranks first in six of its operating countries, and second in another two.
In respect to preparing for the arrival of the so-called GAFA (Google, Apple, Facebook, and Amazon), White thinks it's clear that tech firms are looking to move into the financial services space in order to keep people on their platforms longer, and in doing so to gather more data to grow their businesses.
Consequently, customer confidence is at the forefront of the battle. The key for banks is to convince customers and clients that the bank is working on their behalf, and that its products and services, and increasingly the financial advice it offers, will help them reach their ambitions.
A platform for the future
Ricardo Moreno, BBVA's Global Head of Engineering, adds that engineering has been fundamental to BBVA's strategy. The goal, he explains, is to build a development platform that facilitates collaborative working, using agile methodologies and multi-disciplinary scrums, and enables the development of new future-facing functionality.
Moreno points out that in practice this involves a significant use of cloud technology, which enables teams in different countries to work together and develop global solutions. A key element of this future-facing functionality is the continued emphasis on security and reliability. In respect to security, Moreno admitted that groups like BBVA are subject to constant attacks and cyber-threats, which require constant protection in the here-and-now as well over the long term.
Regarding reliability, the objective is to reach the so-called five nines availability of service – 99.999% available – which is the standard for new digital products, and the level of reliability Google provides with its search engine. All this has to be done in a live system, without compromising the systems customers rely on.
In short, Moreno believes that if the bank achieves this double objective, it will have secured itself an enviable position, not just in regard to growth and optimized customer experience. But more importantly, for the long term, in a future where digital banks will be increasingly more involved in the lives of their customers and clients.