The Colombian Innovation Center group closes a year focused on creativity, entrepreneurship and technological development.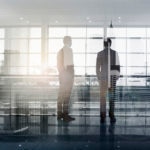 Innovation consists of the implementation of ideas that generate value. But for this to take place, you need networks for knowledge and cross-cutting support in the organization. This is the reason for the creation of the high-performance team (EAR), formed by a group of professionals from different areas of the bank. They make use of Blue Thinking methodology, which covers the main stages of the innovation process, from detection of opportunities to the implementation of innovation projects.
The EAR has become the network that promotes, facilitates, inspires, spreads and supports all the initiatives of the Innovation Center in Colombia within the organization. Each member of the team has clear objectives with respect to his role, and thus generates a significant impact on organizational culture, which needs these drivers of change, who combine with other bank initiatives for transformation and digital culture.
EAR's year closed on Thursday, December 17, and the results of the year from the different lines the innovation center works on were presented, such as research, creativity management, innovation management, and the entrepreneurship ecosystem. These are lines where the team has an important responsibility for leveraging from its area of action and role in the organization, which continues generating a different vision in the organization.
The group's vision with respect to being part of this team, in its own words, is as follows:
- It allowed me to observe, not only to see.
- Changes in our way of working.
- Change the vision of the ideation processes.
- Share, construct.
- It is a driver for thinking and acting differently; it is an enriching experience.
- For me the EAR team means looking where others have looked and seeing what others have not seen.
- Breaking paradigms, new approaches, 100% creativity. One Team
- Opportunity to find new solutions.
- It gives me a very interesting challenge for 2016, commitment and passion for innovation.
- Think about creating.
- Friends.
- Personal and professional growth
- For a more open mind.
- Connection and exceptional results.
- Contributes a more creative way of seeing the world.
- Contributes to the organization, seeing things in a different way.
- A different vision and an efficient response.
- A new vision.
- A change of thinking.
- Different forms.
- To know new and better opinions and ideas.
- For me EAR means: A great deal of learning, a complete change in my way of thinking, saying doing things, personal and professional growth.
EAR allows us to be a different group. There are various points of view that mean that the team becomes richer and stronger to face the new challenges of 2016, constructing the change that will be reflected in the customers.