The art market today is opening up to new audiences. Maecenas is a startup that, through blockchain technology, allows users to invest In art in a fractionated manner, as if they were shareholders in an artwork.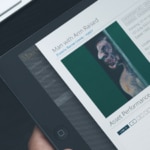 The current process for investing in masterpieces is limited. It has become a restricted sector, to which only a few people have access and where information is distributed in an unequal fashion. Maecenas is using Internet, blockchain and the power of art lovers to make this market more efficient.
As Luis Pastor, partner and advisor at the company, explains, "Maecenas will change the art market by giving access to small and large investors who were excluded from investing in artworks due to the current methods. We will allow the diversification of the investor's portfolio in an accessible and transparent manner."
Art galleries will benefit by using the platform as a channel for sales and promotion, adding value to their existing services and allowing artists to reach a much wider public. The criteria for selecting works is very strict and assures that they are of the highest quality. Also, there is no minimum investment required for participating. It's an online market that promises to give art lovers the opportunity to purchase unique pieces.
 On the Maecenas platform, the vendors make a list of their works and investors can purchase a fraction of them. The purchase is made at a cost that is lower than in traditional systems. In general, the accredited investors include high net worth individuals, such as professional investors, financial institutions and other large corporations that have experience in complex and high-risk investments (venture capital funds, hedge funds or business angels).
"The fine arts industry will not be transformed overnight, but Maecenas will be the beginning of a more open market, where investment opportunities will be the same for everyone who wants to participate," said Marcelo García, co-founder and CEO of Maecenas.
Maecenas works without intermediaries, with the basic principles of traceability, speed and transparency, the leading characteristics of blockchain. In this way, the owners of the artworks are provided with certificates supported by assets, in which the legal rights they have over the works are explained in detail. The art market has opened.