Although many people have already bought or used wearable devices, the truth is that most admit they soon stop using them. That is why the market is looking closely at the so-called Millennium generation (aged between 18 and 34): they are the consumers who could provide the final breakthrough in the use of wearables.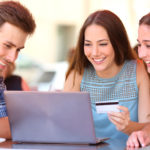 Wearables are a (r)evolution of the mobile trend that has in recent years has seeped into practically all the socioeconomic sectors. These wearable devices are a step beyond smartphones and mobility: they mean carrying this mobile technology on you, whether as a watch, a bracelet, an item of clothing or even as contact lenses...
And those who are driving its use are young people from the millennium generation (aged between 18 and 34), who want to be different and to test all the technologies available, such as 3D andwearables. These are two examples they are prepared to include in a variety of environments in their everyday life and use them to the full: from work to leisure time and entertainment.
In fact, 7 out of 10 say that they will buy awearable device. And one of the main reasons why they are destined to become potential customers for these devices is that they are more inclined to share personal information, so their barrier to intimacy is much lower.
"The traditional thinking is that consumers would never agree to share informationlike location, with brands and the like, but this research shows that consumers, particularly themillennials, would share their location and much more," insists Luis Felipe Rincón, managing director of Wearables.com, following the publication of the studyThe Unexpected State of Consumer Wearable Technology.
According to the research data, these young people feel much more comfortable sharing information anonymously with the government (40% vs. 25% of other adults), anyone on the Internet (35% vs. 20%) and their employer (30% compared with 16%).
These data may be key for pushing big companies to these devices, as they can becomea business opportunity on which advertising has already set its sights. In fact, wearables are expected to be a turning point for the new mobile advertising: better targeted advertisements thanks to the data offered by these devices about how their owners use them and their habits in specific activities, such as sports, games, consumption of entertainment... And it is themillennials who are the targets of this type of advertising of the future.
That is why one of the answers that all those involved in the world of wearables want to know is how to boost the use of wearables. A study by PwC,Wearable Future, asked the millenniums for the keys that would make them increase their use of these kinds of devices.
-  Media and leisure: these devices offer a more immersive and fun experience in leisure activities. In this case, 79% of the expectations had high expectations in the leisure factor, such as more visual and attractive games. It is not a case of creating new genres, but rather of improving the gaming experience in existing ones.
-  Social media: the interaction between wearable devices and social media profiles is one of the keys to their boom among themillennials, as it allows them to update their profiles in real time.
-  Information in real time: if you use your wearable device for exercise, to follow a diet or access medical records, one of the advantages of this technology is that it offers this type of information through an improved, simpler and more attractive user experience.
-  Loyalty: if the devices had applications that rewarded their use, the millennials believe they would increase the frequency with which they used them.
And the reasons these users give for showing their enthusiasm for devices of this kind are:
Safety: 9 out of 10 consider that wearables can offer the safety many people are looking for.
Healthier living: 8 out of 10 firmly believe that with the help of these devices they can eat healthier and do exercise smarter.
Simplicity: 8 out of 10 cite this quality in wearables: they are simpler to use than other types of technology.