Tablets, smartphones, social media… There are an increasing number of channels available for communicating directly with the customer and learning more about them, as well as for customers to convey their message in a more personal way.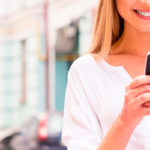 The digital age has been totally revolutionized communication with the end customer. Each user is looking for a customized service, and from several different channels: these are what are known as multichannel users. To learn more about this type of user, financial companies are coming up with strategies in which multichannel banking has become a mainstay.
The key to these multichannel strategies is to offer a customized and integrated communication experience. In designing a new strategy it is essential to take the character of the multichannel customer into account:
1. They seamlessly use different channels to communicate with the brand, whether e-mail, telephone, face-to-face or social networks. And they do so using different devices: cellphones, computers, tablets, in person and so on.
2. They have very high expectations and demand both rapid responses and a close relationship.
3. There is very little intimacy in the digital world so everything from positive comments to complaints gets shared.
After this brief profile, let us now look at how this multichannel customer behaves. Four out of every five users (82%) contact the product and service providers by phone, whereas three out of five (62%) opt for e-mail, according to the figures in the study entitled Evolution of the customer experience toward the multichannel model, by Altitude.
However, one increasingly popular channel today is social media: 20% of customers already contact their providers through Facebook. This figure rises to 29% if the user is aged between 18 and 34.
However, we should beware of being carried away by the figures, as all the channels continue in use: phone, e-mail, face-to-face, Facebook, Twitter, LinkedIn, text messages and more. They all have a place at present, but they are evolving unevenly. This is the age of multichannels.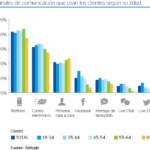 As we can see from the graph, the preferences change according to age. Whereas for users aged between 18 and 34 the social networks –and particularly Facebook– are currently booming (29%), they are still lagging far behind traditional channels such as the phone (80%), e-mail (62%) or face-to-face (40%).
And this is probably due to the fact that each channel is used for a different purpose. For example, searching for a product or service is not the same as making a purchase or a complaint. This is one of the reasons why so-called multichannel strategies should be developed to their maximum extent.
A wide array of devices
And while on the subject of multiple channels, it is also worth mentioning multiple devices –as computers, tablets, cellphones and face-to-face are not at all the same thing. And these devices are gradually becoming associated to specific channels, according to their use. For example, cellphones are still the most common device for contacting a company through the social media channel. 56% of users use their cellphone for this purpose.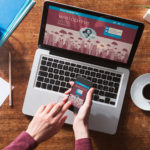 Agility is the key
Which of us has not contacted a company via Facebook or Twitter in an attempt to get their attention? Three out of ten users expect to receive a response to an e-mail, but this expectation soars in the case of social media: four out of five not only expect a response but they also expect it in less than 24 hours.
In fact, the speed of response to any communication from the users is essential for guaranteeing their satisfaction, and even more so in the social media channel, as one of its hallmarks is its immediacy.
One out of every two social network users expects their comments to be read and answered within an hour, and not only among young people: 36% of users aged between 35 and 44 have the same expectation, as do 25% of those aged between 45 and 54. This is because the customer is not only looking for a response, a product or a service but also demanding a solid relationship.
Multichannel in the financial world
In the financial sector there is no doubt that multichannel banking is the most promising way to improve the user experience, and it is therefore essential to generate a strategy designed to produce a multichannel experience that increases the customers' satisfaction, recommendation and loyalty.
The challenge is that the customers are the ones who control the channels they wish to use, and the ones who decide the time, the place, the channel and the information they need to conduct their financial activities. It is a mixture of physical, online, mobile and social banking –and all seamlessly.
One example of this work at BBVA is its BBVA Anywhere banking strategy, designed so customers can access their financial products and services promptly and simply, wherever they may be, and whatever their preferred channel.