Investor Day: Garanti BBVA CEO evaluates Turkey's economic outlook and the bank's performance and strategies
The BBVA Investor Day allowed investors to learn firsthand the details and objectives of the bank's strategy in Turkey. Garanti BBVA CEO Recep Bastug provided information on the country's economic outlook and potential, including Garanti BBVA's performance, competitive advantages and strategies.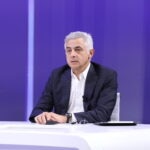 The Garanti BBVA CEO started his presentation speaking about the post-pandemic situation, highlighting that the Turkish economy has shown a very strong recovery: It recorded one of the highest growths among emerging markets in the first half of the year (14.3 percent). High domestic demand and exports support growth in 2021 and current trend suggests a year-end figure of 9.5 percent of GDP. "In the long run," he said, "we estimate Turkey's potential growth to stand at 3.5 percent. This is significantly higher than Europe's growth and relatively high compared to the rest of BBVA's emerging market footprint." Turkey's geographic closeness to the EU and its position as a manufacturing and global trade hub creates huge growth potential for the banking sector," said the CEO at the event.
Turkey's digital savvy population enables the country to adapt quickly to digital transformation and new technological trends, which is a clear advantage compared to other markets. Recep Baştuğ also reminded that Turkey has about 84 million people, with a very young population, with an average age of only 32 years. Around 30 percent of its adult population is still unbanked. "Increasing financial inclusion offers significant growth potential for the sector's customer base," he added. Household debt being only 17 percent vs. the EU average of 69 percent this is also "a good indicator in terms of the Turkish banking sector's asset quality," he said.
In reference to the Turkish banking sector, Baştuğ stated that Garanti BBVA is the second largest private bank by asset size in Turkey, while also being the largest private bank in loans in Turkish lira. "Garanti BBVA is the leader in all consumer loan categories among private banks. We also have the highest TL deposit and TL demand deposit base, suggesting that more customers prefer Garanti BBVA as their main bank. This also gives us an important advantage in managing our margins", he added.
Garanti BBVA also stands out among peers for its NPL metrics. It has the lowest NPL ratio, not to mention the highest NPL cash loan coverage, with 77 percent. "We grow in a healthy manner," he added. Likewise, in terms of financial indicators, Garanti BBVA has the highest ROE, NII, and best-in-class efficiency ratios. "We single-handedly generated 25 percent of private banks' net income. Going forward, our main purpose is to continue maintaining the gap with our competitors," he stated.
Garanti BBVA is able to achieve these results with the highest network efficiency and productivity, integrated financial services with high value verticals, a strong presence in payment system business, best-in-class technology, in addition to a superior customer experience and top brand power.
During his presentation, Recep Baştuğ also shared information on Garanti BBVA's strategy under three main pillars:
Fostering profitable growth to become a larger and more profitable bank
Offering unique value propositions to be a distinctive bank
Leading efficiency, through operational excellence
Regarding the second pillar, the CEO said the bank will continue to offer unique value propositions, financial health, and sustainability solutions to differentiate in our customers' eyes, providing more personalized,proactive, impactful guidance and focus on savings and lending solutions with an advisory role.
As for the third pillar, Recep Baştuğ said that BBVA Garanti plans to continue leading efficiency metrics, encouraging digital migration while positioning mobile as "center of experience" by leveraging Robotic Process Automation; remote roles for digital savvy customers and special focus on the digitization of enterprises and SMEs.