In just three years from inception, German 'startup' solarisBank has become one of the hottest 'fintech' startups. BBVA has been backing the company since 2018.
Whether in the world of entertainment, shopping or transport, consumers have become used to enjoying immediate digital services that instantly cater to their desires offering an ever improving user experience. Netflix, Spotify, Amazon or Uber have all set the standard against which all things digital are measured, and users are no longer willing to settle for less. "Banking services are no exception here," explains a representative from solarisBank, the Berlin-based 'Banking as a Service' lender in which BBVA invested in 2018.
The company explains that many fintech startups started, just a few years ago, trying to address this new digital demand by delivering fast, simple and tailored digital digital financial services.  However, they were often unable to find banking partners that could provide them with the technical and regulatory infrastructure they needed to quickly deploy the kind of digital financial services that the market was craving for. This is precisely the idea that inspired the solarisBank's project. solarisBank was initially conceived as a technological platform with a banking license that would allow fintechs companies to start delivering these services to their clients in an easier manner.
'Banking as a Service' Pioneers
Under this premise, in 2016 solarisBank secured a full banking license from the BaFin, Germany's financial regulatory authority, and thus launched its market operations. "However, it soon became clear that it wasn't just fintechs that needed a modern banking partner, but also all sorts of digital companies that were looking to augment their own product offering with suitable financial services," says the company.
"These are all crucial steps in realizing our vision of becoming a global digital ecosystem for financial services"
solarisBank soon became one of the first EU fintechs to materialize the 'Banking as a Service' concept and to showcase the benefits of creating new business models based on a more open conception of what being a financial service provider meant. Through the use of APIs, solarisBank's platform offers a comprehensive range of generic banking services for all sorts of digital businesses, from virtual payments and IBAN,  to accounts, deposits and transactions, digital identification services and cards. These features allow any company to start offering financial services under their own brand, without having to obtain their own banking license.
The importance of the ecosystem
Partnerships are a key element of solarisBank's business model, and they also play a pivotal role in the new global fintech scenario. solarisBank recently announced an agreement with Alipay, the Asian digital payments giant. In late 2018, the company and Boerse Stuttgart Group (German Stock Exchange) announced a partnership to build of a cryptocurrency exchange platform. More recently, the startup has teamed up with Crosslend, a digital marketplace for European loans, to develop a fully digital process for securitizing loans.
"These are all crucial steps in realizing our vision of becoming a global digital ecosystem for financial services: a place where any company can build its own, modern and scalable banking products," said the bank.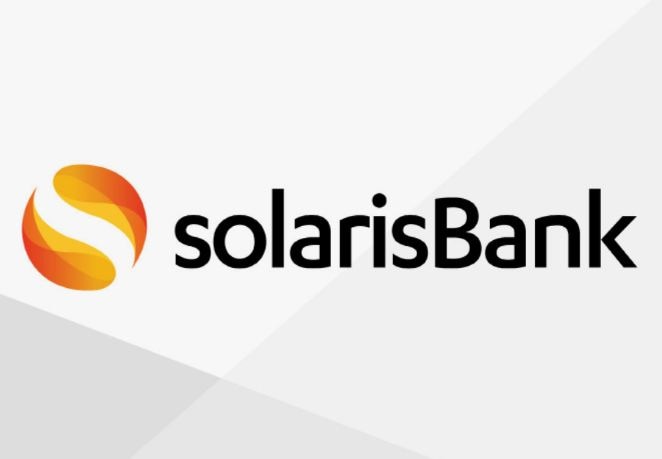 Today, solarisBank team includes 200 professionals, averaging 34 years of age, hailing from 40 countries.
Since it first launched, solarisBank has kept expanding its product range. One of its latest additions has been 'Blockchain Factory', a service that allows companies to easily integrate this technology. This service represents an important step in bridging the gap between the banking and the blockchain worlds. Also recently the company launched a new business unit exclusively devoted to identity management. With this product, the company has "set a new market standard" by delivering fully-digital customer onboarding services for banks and financial service providers.
These are just some of the milestones that solarisBank has covered after BBVA invested in its platform in 2018, as part of a 'Series B' funding round. "solarisBank is incredibly proud to have won one of the most innovative banks in the world as its partner."
solarisBank's representatives cite BBVA's "forward-thinking approach to financial innovation" as one of its standout features, as well as its implementation of agile methodologies such as some of the common elements that unite both companies. In addition, they dub BBVA's international network of expertise and prestige as "invaluable" for solarisBank's growth strategy.
A magnet for 'fintech' talent
It hasn't taken solarisBank too long to rise to the top of Europe's hottest 'fintech startups'. Last year it was included in KPMG's 'Leading 50'' list. Furthermore, just 12 months after it was founded, it earned the 'Fintech of the Year 2017'' award from German publication Payment and Banking.
The company's headquarters are located in the heart of Berlin. In just over a year after lauching, the company already employed 120 people from 20 different nationalities, many of which had very little, if any at all, experience in the conventional financial sector. More than half of these 'solarians', as they call themselves, have a background in new technologies. Today, the headcount has risen to 200 professionals, averaging 34 years of age, hailing from 40 countries. "The unique blend of tech and banking expertise at solarisBank make it a magnet for top talents from all over the world - a key component in solarisBank's growth strategy component" say solarisBank's representatives.
Under executive leadership of Roland Folz, who joined the company in February 2017, solarisBank is regarded today as one of the Europe's best 'fintechs'. "solarisBank's innovative and sustainable banking as a service model makes the company one of the most attractive fintech companies in Germany and in Europe as a whole," say company sources.