BBVA and Cisco strengthen their partnership with the deployment of new tools that improve productivity and sustainability
Cisco Chairman and CEO Chuck Robbins visited BBVA headquarters on the occasion of the fourth anniversary of their strategic partnership.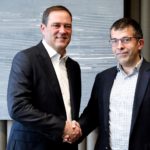 BBVA has agreed to deploy a new set of Cisco collaboration solutions to solve some of its digital communications and sustainability challenges. The bank is implementing Cisco Webex technologies globally to upgrade its videoconferencing capabilities whilst also significantly reducing greenhouse emissions resulting from work-related travel, improving work-life balance, and maintaining the highest level of security. Cisco Webex allows BBVA employees to schedule video conferences and share documents as seamlessly as they would during a face-to-face meeting.
"Cisco Webex has become central to our communications needs. Optimizing our digital collaboration strategy is not only helping BBVA transform how our teams get work done to meet the ever-changing needs of our customer base, but also to reinforce our solid commitment to sustainability and work-life balance", said Iñaki Bernal, Chief Technology Officer, BBVA.
According to Chuck Robbins, Cisco Chairman and CEO, "Cisco is proud to partner with BBVA along their digital journey. With the many opportunities and challenges that come from digitization, we remain committed to working closely together to help employees, stakeholders and make a lasting impact on society."
Global workplace transformation
BBVA employees already use Cisco Webex Meetings to hold around 800,000 meetings annually (about 70,000 monthly), thus avoiding business travel and reducing their global GHG emissions. This approach supports BBVA's principles for responsible banking and its commitment to become carbon neutral in 2020.
As a next step, BBVA has chosen Cisco Webex Teams for its workplace transformation, to be used by more than 126,000 employees working across 30 different countries. From one interface, employees will be able to call, chat, and meet with video, as well as share and edit documents securely.  Cisco Webex Teams also works seamlessly with BBVA's existing Webex Room systems and other video devices, unifying workflows across both physical and virtual workspaces. Meeting the requirements for ease of use, security, and integration is achieved with data loss prevention strategies and Cisco CloudLock.
Digital capabilities for the multi-cloud era
As BBVA continues to leverage data and technology as key accelerators of its strategy, a hybrid multi-cloud approach is crucial. Cisco and BBVA work together in the evolution strategy towards a hybrid cloud, both private and public, delivering apps and processes at the speed of a public cloud, but with the security and compliance required for a financial institution.
Multi-year digital partnership
Since 2016, BBVA and Cisco have been working together to build the Bank of the Future, using technologies including collaboration, networking, data center and security. Additionally, Cisco has appointed a dedicated team that collaborates with BBVA in defining new architectures.