During the week leading to International Women's Day, BBVA held a series of events to celebrate the organization's advances in gender diversity. An event co-organized with the Inspiring Girls Foundation, in which a group of prominent women have shared their testimonials to inspire BBVA's female workforce.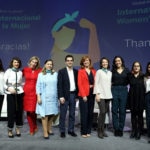 "Today we commemorate International Women's Day. A small gesture to show how we promote all measures to embrace gender diversity," said Carlos Casas at the beginning of the event. BBVA's Global Head of Talent and Culture issued a statement supporting the bank's employees in Mexico as they joined the nationwide strike to protest against the wave of femicides that the country is suffering.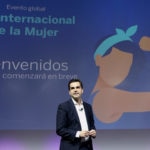 Carlos Casas, BBVA's Global Head of Talent and Culture, during International Women's Day event - BBVA
Then, Susana López, Head of Diversity and Inclusion at BBVA, and Mayka Adrio, Head of Business Process Solutions in CIB at BBVA, went over some of the most effective initiatives rolled out by the Group to promote workplace equality and inclusion. Through an additional quantitative and qualitative analysis, the bank has singled out the three broad areas of action to realize the full potential of its female workers' talent.
The first one focuses on eliminating of unconscious biases in selection processes. For this, the group has adopted the Rooney rule, which establishes that at least half of shortlisted candidates to fill an internal job opening should be women. Additionally, the bank has improved the wording of the job offers it advertises, embracing the use of inclusive language.
Making women's talent visible is the second strategic point identified by BBVA. To do this, BBVA has implemented a coaching program to fast-track high-potential female employees and help them build the skills required to progress to more senior roles within the organization.
The last line of work in gender-related matters is known as 'leveling the playing field', and consists of a series of initiatives aimed at helping men and women balance their professional opportunities. The standout initiative here is the 'Work better. Enjoy life' program, with significant measures to boost employee work-life balance and productivity. In this regard, the company has adopted a series of policies, including digital disconnection or the closure of the bank's corporate headquarters in Spain after 7:00 p.m., aimed at encouraging employees to work more efficiently.
Leading women in fields traditionally reserved for men
The Inspiring Girls Foundation, whose purpose is to inspire girls of all ages to broaden their professional horizons, build up their self-esteem by offering them insights into the variety of professions and jobs within their reach, and raise awareness about the need to overcome limitations and stereotypes, has organized a debate featuring prominent women who have managed to excel at each of their respective professional fields.
Moderated by journalist María Eizaguirre, off-road motorcycle rider Sara García – the first European woman to complete the Dakar Rally without mechanical assistance-, scientist and medical researcher Guadalupe Sabio; Carmen Terradillos, a nurse at Doctors Without Borders; or Marta Pérez Dorao, President of Inspiring Girls Foundation in Spain, shared their personal and inspiring stories with the audience.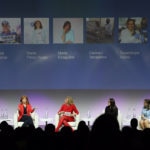 Inspiring Girls has organized 'Women without limits' rounded table - BBVA
The event concluded with the presentation of 'Move for Equality', a group created by BBVA employees, both men and women, to promote the role of women within the organization, encourage male employees to back their pursuit, identify gender gaps and new approaches to fight them, detect glass ceilings and equip female workers with tools to fully develop their career.
A week to raise awareness about female talent
Over the course of the week leading to International Women's Day, BBVA organized a number of activities for employees to raise awareness about a variety of issues. The Data area organized an event at the BBVA AI Factory that brought together a panel of speakers from a number of sectors, who shared their insights into feminism and the situation of women today. From their own experience, linked to their respective professional fields (filmmaking, healthcare, education, engineering and music), the guest speakers touched on topics such as how a professional career empowers women, the need to shine the spotlight on more female role models, education or biases in healthcare, among others. During the panel discussion that followed, the participants addressed issues such as co-responsibility in housework and childcare, family-life balance or the different lines of debate within the feminist movement.
Framed within the 'Be Yourself' diversity project, BBVA organized some group dynamics that invited female and male employees to learn about and raise awareness about the masculine and feminine energies within each person. In an activity led by professional coaches, participants were able to experience first-hand how the personality traits traditionally attributed to men and women can be found in every individual, regardless sex, and how we all resort to one or the other depending on the situation.
At BBVA Next Technologies, the TecLab and SecLab organized a series of talks to delve into the gender gap challenges that 'chatbot' developers have to deal with on a daily basis. The speakers analyzed existing gender biases from a technical point of view, sharing their thoughts and proposing solutions from a number of points of view, including security, data and design.