BBVA signs its first sustainable working capital loan in Asia with SK Innovation
BBVA and the Korean energy company, SK Innovation, have signed a working capital loan of €100 million to expand the company's electric vehicle battery manufacturing facilities in Europe. This transaction is the first working capital loan certified by BBVA in Asia in compliance with its sustainable transaction banking framework.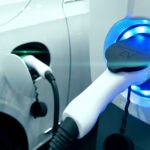 SK Innovation has received a €100 million working capital loan from BBVA to finance the construction and operation of the company's second battery factory in Hungary. SK Innovation will therefore increase its production capacity with the aim of supplying more cells to meet the growing demand from European electric vehicle manufacturers. The funds will be used for the development and manufacture of batteries as well as for research and development (R&D) of new, more efficient, and safer battery technologies for pure electric and hybrid vehicles, motorcycles, and bicycles.
The construction of the battery factory is a green project, and the loan has been certified as such in accordance with BBVA's sustainable transaction banking framework. The SK Innovation project focuses on clean energy, the development and manufacture of new technologies, and sustainable cities. Development in these areas will provide major improvements in mobility and quality of life for citizens worldwide.
With this agreement, BBVA reaches a new milestone in the area of sustainable finance: the formalization of its first sustainable working capital loan in Asia. The deal also serves to reinforce the bank's commitment to the fight against climate change by supporting the automotive sector as it makes the transition to a greener future. BBVA believes that Asia is a key region and represents a significant opportunity because many of its best companies are expanding into countries where BBVA is present. BBVA is well positioned because it can offer these clients high value-added solutions in Europe, especially in countries such as Spain and Turkey, North America and Latin America.
BBVA's Global Head of Trade and International Banking, Francisco Javier Fernandez De Troconiz Nunez, comments: "We are delighted to close the first sustainable working capital loan in Asia and thus support SK Innovation in their green project in Europe. BBVA's framework for sustainable transaction banking is unique in the industry, and we are committed to the development of global sustainable transaction products."
SK innovation is the leading company in the Korean energy sector and a leader in the global electric battery industry. With its second battery factory in Hungary, SK Innovation intends to further strengthen its presence in the European market. This boost to its production is in line with long-term supply contracts with some of Europe's largest car manufacturers, including Volkswagen and Mercedes-Benz.
BBVA, a leader in sustainable finance
As a sign of its firm commitment to the fight against climate change, in 2018 BBVA approved its Pledge 2025, for which it has already secured €40 billion of its 2025 €100 billion target for green financing, sustainable infrastructure, social entrepreneurship, and financial inclusion projects. The bank has the expertise, knowledge and experience to provide its clients with superior advice on sustainable financing solutions and is playing a key role in the development of this market.
In 2018 the bank took a further step in its goal to support its corporate clients in their sustainable financing strategies with the creation of an innovative sustainable transaction product framework, the first of its kind in the industry. This methodology allows the bank to classify its clients' transactional banking operations as green, social, or sustainable.