Women in Banking (WIB) was created with the purpose of leading and promoting conscious change regarding the value of women in decisive positions in the Spanish banking sector. The initiative was launched thanks to the backing of the Spanish Banking Association (AEB in Spanish), and seven other banks promoting it : BBVA, BNY Mellon, Citi, Deutsche Bank, ING, Sabadell and Santander.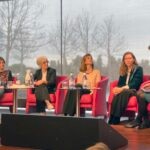 "Like the rest of society, the Spanish banking industry is a sector with huge challenges in terms of equality, and at the same time, it's a field brimming with opportunity, where female talent has a lot to contribute at all levels. Women in Banking arose precisely to encourage banks to take advantage of these opportunities," said Elena Alfaro, the Head of Data and Advanced Analytics at BBVA and the bank's representative on the Women's Committee at the AEB.
The project was presented with two round tables in which both founders of the WIB initiative participated, including Mayka Adrio from BBVA, as well as representatives of the AEB Women's Committee, with Elena Alfaro on BBVA's behalf. These round tables served to showcase the importance of the association, reflect on the objectives it will work toward, and identify the challenges women in the banking sector face. "As social actors, we have the responsibility to take an active role to build more just and inclusive societies. It is enriching to share the solutions we are carrying out in each company with other female colleagues, and learn from each other," Alfaro explained.
In this regard, interesting conclusions were shared during the debate, such as the growing role of women in management positions in the industry or best practices that can help to continue improving this presence. In addition, participants presented actions and strategies to be carried out regarding the visibility of women in the financial sector and described the mentoring programs, events, conferences, networking, talent identification and support that WIB intends to develop in the future. The network of women at the seven banks that make up the driving group was essential to the launch of the WIB. At BBVA, the BRG of Gender Diversity, Move for Equality, has been leading this initiative since its inception in 2020.
Alejandra Kindelan, future Chair of the AEB, moderated one of these panels. "Today we were able to perceive the knowledge of the networks of women who have propelled the association, and the support of some of the most important financial institutions in the country," she said. That is one of the goals of this association - to become a point of reference for the financial sector in terms of diversity and the inclusion of women in order to give visibility to female talent and inspire new generations through leaders. "Without a doubt, WIB will respond to the challenges the banking sector presents for women by identifying objectives and solutions that promote gender equality in an industry as relevant as ours," she concluded.