BBVA to invest in the circular economy, biogas and biomethane through Suma Capital's climate fund
BBVA plans to invest in Suma Capital's 3rd Sustainable Investment Fund, which specializes in the energy transition, the circular economy and in particular waste management for energy production: biogas and biomethane. The financial institution is investing in this reference fund for sustainable infrastructure in Spain as part of its investment strategy for climate funds. Through these investments, BBVA is contributing to the decarbonization of the planet.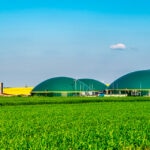 With this investment, BBVA is gaining access to the flow of operations among utility companies and sustainable energy production companies in Spain. For the bank, it also entails high potential for growth, driven by direct access to Suma Capital's investment team and to the companies in its portfolio.
BBVA is focusing on sectors related to the energy transition through more efficient energy use or energy production from renewable sources; and in the circular economy, through better waste management and also optimizing the water cycle, for example.
"For BBVA, sustainability is a business opportunity and this investment falls within our global sustainability strategy, specifically in investment in climate funds. These funds generate attractive financial yields adjusted to risk, and will allow BBVA to learn in this environment and become a point of reference for financing these technologies," said Javier Rodríguez Soler, Global Head of Sustainability.
"Working hand in hand with BBVA, a leading institution in ESG in the banking sector, is an exceptional opportunity to boost our joint investment strategy and move toward a more sustainable future. We are excited to embark on this initiative, and are confident that this alliance will help us achieve results that are even more significant and transformative for society and the planet," added Enrique Tombas, president and founding partner of Suma Capital.
BBVA's is investing €4 million in Suma Capital's third sustainable infrastructure fund, SC Climate Impact Fund III FCRE, which totals €300 million. BBVA is joining other institutional investors and family offices - both Spanish and Europeans - that are already participating in this fund.
In terms of its geographic scope, Suma Capital expects investments in Spain to represent 50 to 70 percent of the total commitments, while the remainder will come from Europe (mainly France, Germany, Italy and the U.K.).
SC Climate Impact Fund III is classified as an impact fund under Article 9 of the Sustainable Finance Disclosure Regulation. The vehicle is designed to invest in companies or projects that contribute to the fight against climate change, promote the energy transition and circular economy, and help to reduce CO2 emissions and use resources more efficiently. In this regard, in the first six months of 2023, Suma completed a total of four operations in Spain related to the creation of new waste treatment infrastructure, renewable heat networks and biogas plants.
Investment in climate funds in BBVA's sustainability strategy
On June 9, 2023, BBVA announced a $20 million investment in Just Climate, a climate assets fund that aims to invest in high impact solutions designed to eliminate or drastically reduce emissions. In October 2022, the bank allocated a €10 million investment to the world's largest clean hydrogen fund, managed by Hy24. The bank began this strategy in April 2022, investing in Lowercarbon, a venture capital fund specialized in carbon capture, and Fifth Wall in July of the same year, which specializes in technologies to decarbonize the construction and real estate sector.
Through these investments and by supporting technologies with enormous future potential, BBVA is actively contributing to the goal of decarbonizing the economy.
About Suma Capital
Suma is an independent Spanish asset management firm, pioneering in sustainable investment and with a European scope. Its innovative commitment to biogas and biomethane, especially, enable it to position itself and do business in a sector with high potential for growth. In this regard, Suma, together with Enagás, own the UNUE plant that is already contributing biomethane to the natural gas network. Recently, through its investment with Sitra, it announced that construction has begun on another plant in Montes de Toledo and two others in Polan and Consegura, which are in the final stages of development.
Suma Capital focuses on investments in sustainability through three different programs: infrastructure, growth and venture capital. Suma Capital is an established European player in the segment of small to mid-sized enterprises. The infrastructure division is a pioneering initiative that has been supporting the energy transition and circular economy for 10 years through capital investments. Its goal is to obtain financial, social and environmental returns.