BBVA's entrepreneurship initiatives have benefited 2.2 million people in 2019
As part of BBVA's Community Investment Plan, BBVA has allocated €9.8 million to entrepreneurship initiatives, benefiting 2.2 million people in 2019. It is therefore fulfilling its commitment to entrepreneurship as the driver of opportunities for people, creating a positive impact on their lives in all countries where BBVA has a presence.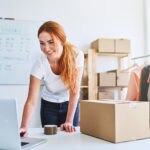 The bank's entrepreneurship programs focus on giving support and visibility to the most vulnerable entrepreneurs, like rural women in Latin America and other groups at risk of social exclusion, and those who have a positive social impact through their businesses.
Some of the most notable global initiatives of 2019 include:
BBVA Momentum 
Since its launch in 2011, BBVA's program in support of social entrepreneurship has accelerated the growth of 684 social enterprises in six countries:  Colombia, Spain, the U.S., Mexico, Peru and Turkey. This complete five-month program includes training, strategic support, possible financing, collaboration, networking and visibility. All of this with one sole purpose: to promote the growth of participating companies and their positive impact on the societies where they work. So far, 477 professional experts have actively participated in BBVA Momentum, most of whom came from BBVA and have acted as mentors and specialists.
The 2019 edition was the most ambitious in the history of the program. The initial call for proposals surpassed all forecasts, receiving 954 applications, but the final selection was not far behind with a total of 167 participating companies.  The experience was highly valued by participating entrepreneurs. "It was highly valuable experience for me and has surpassed my expectations," said one of the participants, the U.S. entrepreneur Laura Hertz of Gifts for Good, during the final global event of this edition.
BBVA Open Innovation
Through the Open Innovation area, BBVA carries out a series of different initiatives that connect the bank with the innovation ecosystem. One of the most remarkable examples of this is the fintech startup competition, Open Talent, whose goal is to support emerging projects with the ability to transform the financial sector. Over the past 11 editions, more than 6,000 startups have participated in the competition, and up to 800 BBVA professionals have been involved in the company selection and evaluation process.
Another initiative designed to promote innovative talent that turns into tangible projects is Fast Track - a program designed to foster collaboration among startups and BBVA's business areas.
"For years now, BBVA has been highly committed to innovation in the fintech ecosystem. We firmly believe that this union between banks and technology could have a positive impact on society. And we consider ourselves privileged to be able to connect and work with so many high potential companies that are committed to generating precisely this impact," says Ainhoa Campo, the Global Head of Open Innovation at BBVA.
BBVA Microfinance Foundation
BBVA created this non-profit organization in 2007 to support entrepreneurs in vulnerable situations in five Latin American countries: Colombia, Peru, the Dominican Republic, Chile and Panama. Its purpose is the sustainable development of these entrepreneurs through a proprietary methodology: productive finance.
With this methodology, the bank provides financial services, training and support for more vulnerable entrepreneurs in order to improve their quality of life through their productive activities. Since its creation, the institutions that belong to the BBVA Microfinance Foundation have granted more than $14.1 billion of loans. At the end of 2019, the foundation was serving over 2.2 million people.
Local impact
BBVA has also promoted local initiatives in the countries where it does business. Below are some of the most noteworthy examples:
Female entrepreneurship in Colombia: the bank has been working on several different initiatives in this country for years now in order to achieve gender equality and empower women and girls. Some of them are: the MET Entrepreneurship Forum or the bee project in the Santander department, among others.
Women Entrepreneurs in Turkey: is an ecosystem that promotes female entrepreneurs with training, access to financing, networking and visibility.
Small Business Banking Accounts and Financial Solutions in the U.S.: an initiative that facilitates the incubation and acceleration of new businesses, helping small businesses in the education or technology sectors grow, and collaborating with organizations in the sector.
Entrepreneur Fair in Uruguay: known as the Arts and Crafts Fair, it is held in the Rivera department in December with more than 50 business women who act as hosts in the stands, showing and selling their products.
BBVA also promotes entrepreneurship through its collaborations with other organizations. In this regard, it has created a complete ecosystem of social entrepreneurship in which it participates through important leading organizations like The European Venture Philanthropy Association and The Aspen Network of Development Entrepreneurs (ANDE).