Female entrepreneurship: breaking down barriers around work-life balance, digitisation and financing
A lack of role models, stereotypes and difficulties accessing funding make it hard for women to launch businesses. Committing to work-life balance, redefining the face of entrepreneurs and new business and digital models are some key aspects that could help make entrepreneurial opportunities more egalitarian.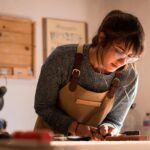 Without racial, cultural and gender diversity, there is no innovation or progress. Women are not a minority, they make up 50% of the population and, therefore, half of its potential.  Although their role in the labour force has evolved over recent decades, it's no longer just about breaking glass ceilings and occupying leadership positions in large corporations - female entrepreneurship is also necessary for making progress in society.
How many male entrepreneurs are well-known? Names like Bill Gates, Elon Musk, Jeff Bezos and Mark Zuckerberg tend to come to mind. Could we also name several women?
Madame CJ Walker, orphan and cotton gatherer, began a line of hair products aimed at African-American women, at a time when racial segregation was still a reality; Alicia Asín, at just 24 years old, came up with Libelium, an IoT company that exports sensors to over 120 countries and that won the European Commission's 2018 EU Prize for Women Innovators; in 2017 Andrea Barber launched Rated Power, a piece of software for designing photovoltaic panels that seeks to expand renewables by automating design and reducing costs.
Sometimes, however, women no do not perceive themselves as potential entrepreneurs because of there being few examples to follow, gender roles assigned by society and a lack of support from their entourage. Large corporations also have an opportunity to give them a voice, for example through the Women Talks events organised by BBVA Open Innovation.
Women demand their independence
According to data from Global Entrepreneurship Monitor (GEM), almost 130 million women run consolidated companies. Behind this figure hide countless stories of women who, thanks to their determination, are able to support their families while contributing to the prosperity of their surroundings. "Often women are entrepreneurs out of necessity rather than opportunity, vocation or goals, as tends to be the case with men", explains founder of Stealth Mode, Ryan Newton, who took part in BBVA Open Innovation's Women Talks event in May. The expert emphasises that those with large family burdens may find it difficult to hold down a salaried job.
Entrepreneurship is also a way of supporting women in vulnerable situations and can significantly improve their families' economic prospects, according to America's Quarterly magazine. Also, increasing women's purchasing power leads directly to stronger local economies, because they invest a higher percentage of their income than men do in their own communities. "Most of the money they earn goes towards family well-being", says BBVA's Director of Legal Strategy and Development, Karla Valenzuela.
"Often women are entrepreneurs out of necessity rather than opportunity, vocation or goals"
Spain is at the forefront of female entrepreneurship, with 9 female entrepreneurs for every 10 men, when the European average is 6 women for every 10, according to GEM data. However, this is not the case everywhere in the world. In Mexico, for instance, only 19% of entrepreneurs are women, according to the country's National Institute of Statistics and Geography.
Limited to the services sector
The gender gap refers not only to the lower number of entrepreneurs, but also to the industries in which their businesses operate. Digital and tech, which are booming globally, are not commonly among the startups created by women.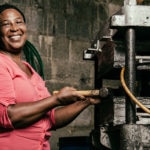 Fundación Microfinanzas BBVA
On the one hand, digital entrepreneurship has been the main driver of value creation in the economy over recent decades - it contributes to the diffusion of scientific progress, to boosting technological innovation, to revitalising the business fabric and to promoting employment. In addition, it is responsible for 40% to 70% of a country's economic growth, says the Organisation for Economic Cooperation and Development.
On the other hand, however, according to startup accelerator Lanzadera, women have traditionally been involved in less technologically intense sectors or in sectors that require lower initial investment, such as services or fashion. According to UNESCO data, this is because fewer than 30% of the world's scientific researchers are women.
Women have traditionally been involved in less technologically intense sectors or in sectors that require lower initial investment, such as services or fashion
Ryan Newton stresses that there is also a digital skills problem: "In the fintech world, solutions go to people who already have bank accounts, who already feel comfortable with the apps," she says. However, she goes on to explain that "although in Mexico around 70% of the population has a smartphone, only 4% report having used it for financial services". Where women are concerned, the expert notes that they frequently have fewer digital skills and are more mistrusting of digital services.
The 'Entrepreneurship with a Gender Perspective' report states that, to reduce this divide, attention should be paid to overcoming stereotypes, committing to work-life balance, implementing new business models and increasing the visibility of female entrepreneurship.
Prudent money savers, but with funding problems
A priority is to ensure that women have access to tools that promote business creation and longevity, such as strengthening a network of contacts, leveraging mentoring networks and, in particular, sources of funding. For example, when women take out loans they tend to receive less capital and pay higher interest rates, despite providing more guarantees than men.
In fact, a study by the business school at the Central American Institute of Business Administration (INCAE) showed that, while most men in business said that they closed their company due to low profitability, businesswomen claimed that the cause of their business' failure was the difficulty of obtaining funding. "If a financial product has certain requirements that, by default, a woman does not have, such as property ownership, then they will be excluded from that loan", explains Newton.
For her part, Valenzuela, who also discussed these factors at the Women Talks event by BBVA Open Innovation, explains why women sometimes do not have the assets that can serve as guarantees for financing: "In humble parts of Mexico, like Oaxaca, notaries recommend that you leave your inheritance only to male family members, because daughters will end up marrying and sharing their husband's property".
"It's not that women are risk averse, we measure it better"
However, the Women's Entrepreneurship Report 2019 indicates that companies with leading women work with more consistent business plans. "It's not that women are risk averse, we measure it better; we are more inclined to save money and have our feet more firmly planted on the ground", claims Valenzuela. She also adds that, during the economic crisis caused by the pandemic, BBVA found that it was not women who were failing to pay their debts.
Design with everyone in mind
There's more homework for the list of things to do to achieve equality in entrepreneurship - listen to everyone and think about everyone. This is why BBVA's Director of Strategy points out that it's necessary for financial entities to eradicate hierarchical policies. "To be able to design products according to every need you have to allow and teach your organisation to listen to those below, so that ideas get through." Ryan Newton adds that every situation should be taken into account: "It's not just about identifying inadequacies in the offering to women, but about detecting them in any underserved or vulnerable segment".
Education, for its part, has a subject pending - fostering business culture in women in order to redefine the profile of entrepreneurs. Also, financial institutions must adopt a gender-sensitive approach in which the needs of all niches are considered in the design of products and services, so that they can form the foundations of new businesses.
Achieving the Sustainable Development Goals (SDGs), particularly those related to equality, demand innovative solutions that help break down trends and stereotypes, so that no woman is left behind. As journalist and presenter Diane Sawyer says, "whatever you want in life, other people are going to want it too. Believe in yourself enough to accept the idea that you have an equal right to it".