The agile work methodology, new skills that teams look for or the recent inclusion of diversity as a strategic business priority are some of the ways in which BBVA's human team has changed over the past few years. Paloma Tejada, head of Talent and Culture, Agile and Communications, at Client Solutions, BBVA, spoke about all of them in a conversation with Matthew Gamser, CEO of the SME Finance Forum.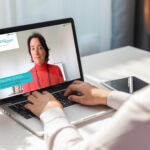 "At BBVA we have embarked on one of the most exciting and inspiring journeys any organization can take, and I feel very lucky to be able to be part of it". With these words, Paloma Tejada has described the opportunity of witnessing first hand BBVA's transformation, a financial institution built on 160 years of heritage, into an 'agile' organization.
The agile revolution
In 2014 the company started experimenting with agile methodologies in some teams in Spain and Mexico, and South America. The result of these scrums - i.e. multi-disciplinary teams that work in the same physical space with representatives of the business, Design and Marketing, Technology and Data units – were extremely promising. "We realized that we were breaking the functional department silos and that we were creating something much more focused on our customers at a speed that we had never seen before."
The next step, scaling up the model globally, didn't strike us as a simple task. "Culturally, it raised many questions, especially in a hierarchical organization. For a brief period of time, some managers feared their jobs were disappearing. But soon, when they started seeing the results, that fear turned into enthusiasm. And once we started producing under the agile methodology, there was no turning back, because you could really see how you were focusing on creating value." According to Paloma Tejada, for the leaders, agile has resulted in the style of leadership, in the sense that they have become "servant leaders", in other words, leaders that help and empower collaborators, inspiring them and helping them grow within the organization. The key to turn the bank's employees into believers of the methodology in their day to day work has been its effectiveness. "If you're given the way and the methodology to produce more and better, you jump on that ship."
"If you're given the way and the methodology to produce more and better, you jump on that ship"
BBVA's remarkable transformation has come hand in hand with a convincing commitment to diversity and inclusion. "We believe that diversity has an impact on our business results, because our customer base is diverse, so embracing diversity allows us to better adapt to this diverse group of customers and put more competitive services in their hands. Obviously, we need to keep at it, because many times, achieving progress in diversity related matters is not easy, and this is why at BBVA we recently underpinned our diversity goals by making them a strategic business priority. And something that helps us is being present in many geographies, because that has forced us to adapt, even, our internal concept of diversity." During the interview, Paloma Tejada also spoke about the 'Business Resource Groups' (BRGs), of employees who voluntarily get involved to improve diversity in the bank and make progress towards our diversity goals in multiple ways: "We have a total of 15 BRGs throughout BBVA with whom we work not only on gender diversity but also on LGTBIQ + diversity, racial diversity, and this is helping us to open up the dialogue that is essential for all organizations, because the key to diversity is having open channels of conversation, to listen to people, look at things from different points of view and try to understand all sensibilities. Creating these spaces for dialogue and this psychological safety that is so important for teams, because if you feel that there is that psychological safety in your team, you feel you can raise your voice and be yourself, and this is a very empowering experience. When you're yourself, you know you can give your best, and that's where the magic happens."
New skills and disruptive talent
In an ever-changing context such as the current one, it is essential to identify the fields of knowledge that can help you to quickly adapt and also offer that training to employees. Some of these areas of knowledge that are becoming increasingly appreciated are design, digital sales, data, cybersecurity, sustainability and behavioral economy. "When it comes to recruiting, we've created a global program called Be Talent, a global program that encompasses the entirety of our footprint, with four main lines of action: the first one is that we look for disruptive talent, and I love it, because organizations need rebellious talent, people who help you think and change, people who challenge you. We call it disruptive talent and this means that they need to be agents of change, critical talent with knowledge and skills in high demand, candidates who are entrepreneurs, who have a proven ability to execute and have a cultural fit with BBVA."
"Organizations need rebellious talent, people who help you think and change, people who challenge you"
Other more traditional lines of work, but also very important, are the Global MBA Graduate program or the High Potential Undergraduate Global (HiPo Glo) program, aimed at spotting junior talent with high growth potential within different universities, as well as BBVA itself. "And finally, the fourth line, and one that I think is really exciting because of how groundbreaking it is, is the one we've named Talent in Science. We're trying to enroll scientific talent within BBVA so that we can become part of the research ecosystem."
Asked about how BBVA faced the challenges of work during the COVID pandemic, Paloma Tejada explained that: "We were lucky because at BBVA we had already started shifting to become an 'agile' organization, which is totally in line with what we need right now in this context, which is to be resilient and able to quickly adapt." However, she recognizes that "even organizations such as ours, organizations that are already in the process of evolving and changing, we need to make certain adjustments for the new context. The first one of these is the style of leadership, we need to evolve towards a trust-based leadership style. We need to adapt to the reality in which we work, which is going to become less and less centralized from now on, and our relationships with teams must be built on trust and this will bring the best out of each and every one of us. Also, we need to rethink how we measure performance. Before, with more traditional systems, we valued availability, presence and effort. In fact, not only were they appreciated, but they were mistakenly considered indicators of productivity. Now, we need to focus more on true value creation and come up with systems capable of gauging that, more based on meritocracy."
The role of banking for SMEs in the context of COVID-19
In the context of the pandemic, BBVA has backed the support measures for small and medium sized enterprises promoted by the governments of all the countries where it is present, and built tailored solutions and flexibility plans across a broad spectrum of lending products for customers. "This new context has implied for many SMEs changing the way in which they interacted with customers and clients. 'e-commerce' is becoming increasingly relevant and, just to give you an example, we have organized 'webinars' to help our customers and non-customers sell through digital channels", said Paloma Tejada. "We are trying to share the insights we learned when we were transforming into a digital organization with our customers, to help them with their own transformation.
Paloma Tejada also underscored the vital importance of small and medium sized enterprises as the backbone of any country's economy. "We all need to work to help them and they need to become more resilient. If we build a network to help them achieve this, we'll succeed, both SMEs and BBVA, so this is where I would focus on: helping them become more resilient and equip them with the tools to transform and become more 'agile'."