Taking stock of BBVA's Center for Financial Education and Capability three years after its creation: 250 publications and 100 partner organizations
BBVA's Center for Financial Education and Capability is celebrating its third anniversary on February 6th. Since it was first established, this platform, which seeks to promote financial education as a driver to improve people's financial health, has benefited from the collaboration of 100 different organizations participating in its initiatives. The center also serves as a complete information repository on the subject, and has showcased nearly 250 reports and publications and 140 best practices around the world.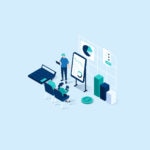 José Manuel González-Páramo, Chairman of the Advisory Board of this center, congratulated all the professionals, experts and scholars who have made this "birthday full of success" possible. "Now, following three years of intense activity, it is time to work to enlarge and strengthen the global financial education community that has been created around this center." To do so, it will continue publishing and disseminating content in diverse formats, promoting research and strengthening ties among the members of the financial education community.
On February 4th, the center held its Advisory Board meeting, which served to share the results from 2019 with its members and discuss the challenges to be faced this year. 19 organizations specializing in different areas, with extensive experience in the world of finance and training, are represented on the board.
More content, wider dissemination 
Internet presence was fundamental for the dissemination of all kinds of content that uses the center's website as a platform: from specialized studies to information on best practices in international finance, as well as related articles and publications on bbva.com, data on BBVA's financial education activities and information on events.
In 2019, the website published over 80 studies and best practices and ended  the year with 4,600 newsletter subscriptions through which the center reports on all of its latest developments on a bi-monthly basis. Its online audience reached 20,000 users with 53,000 web visits in 2019, practically doubling the figures from the previous year. Another channel the center uses to share knowledge is Twitter. The profile @BBVAEduFin posted more than 150 times per month, reaching a total of 67 million users.
2019 was the year the center made an important commitment to another way to share knowledge: the Edufin podcast, which joins BBVA's family of audio content. The EduFin podcast consists of a series of programs that cover a variety of different topics related to managing finances -- things like credit cards, mortgages or financial planning -- in a fun and educational way. So far, 7,200 people have listened to the 10 published episodes. Through the podcast, the center tries to address the demand for information through voice -- one of the Communications trends that aims to offer the audience content through the spoken word.
A global event with international coverage 
"Education is the best way to end inequality and promote sustainable development," said BBVA Group executive chairman Carlos Torres Vila at the 2019 EduFin Summit -- the third edition of the global summit on financial education organized by the center. His words summarized the spirit of a meeting that turned Madrid into the international capital of financial education on July 11th and 12th. Over 20 media outlets covered the summit, seven of which came from Colombia, Peru, Mexico, Uruguay and Turkey.
250 guests attended this huge international event and 1,170 watched via streaming. Bank of Spain Governor Pablo Hernández de Cos and an important ensemble of 30 sector experts from 16 different countries participated in the conference. All of them shared their knowledge and experience related to digitization and financial education as drivers to create opportunities for everyone.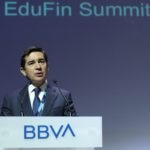 BBVA Group executive chairman Carlos Torres Vila at the 2019 EduFin Summit.
Fueling research
In 2019, the center also consolidated its scholarship program for researchers, the BBVA EduFin Research Grants. In this edition, the number of applications requesting financing for different research projects on financial education doubled. Five finalist projects were selected, among which €50,000 will be distributed. These projects address a variety of different problems associated with education and financial inclusion with an innovative social approach.
Space for knowledge 
EduFin Talks are another initiative of BBVA's Center for Financial Education and Capability, which provide a space for reflection and debate on specific topics related to education and financial skills. José Antonio Herce, Associate Director of AFi, and David Tuesta, economist and former Finance Minister of Peru, were featured in the two editions of EduFin Talks held in 2019.
Challenges for 2020
The fourth edition of the global EduFin Summit will take place in October. Further details will be revealed in the coming months and new meetings will be held with leading experts through the EduFin Talks. 2020 will be a year brimming with activities and initiatives to foster knowledge, strengthen partnership and increase the positive impact financial education has on people's lives, particularly the most vulnerable.