What is BBVA doing to promote decent work and economic growth?
Roughly half the world's population still lives on only the equivalent of two U.S. dollars per day, whereas worldwide unemployment stands at 5.7 percent.  This might seem like a low percentage, but in many parts of the world, merely having a job does not translate into being able to escape poverty. The eradication of poverty depends on all parts of society having access to stable employment and decent wages. This is the objective of United Nations Sustainable Development Goal 8: "Promote inclusive and sustainable economic growth, employment, and decent work for all,"  a goal BBVA works toward each day, not only internally in its relationship with its employees, but also with a business model that more broadly contributes to its fulfillment.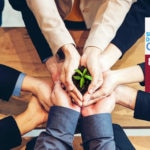 According to the United Nations, young people are the key. So, it believes "providing youth the best opportunity to transition to a decent job calls for investing in education and training of the highest possible quality, providing youth with skills that match labor market demands, giving them access to social protection and basic services regardless of contract type, as well as leveling the playing field so that all aspiring youth can attain productive employment regardless of their gender, income level, or socio-economic background."
The UN also stresses the need to create the necessary conditions so that people have access to quality jobs, stimulating the economy without harming the environment. Similarly, increased labor productivity, reduced unemployment – especially among young people, – and improved access to financial services to help manage income, accumulate assets, and make productive investments are ways to advance inclusive and sustainable growth. This is where sectors like commerce, agricultural infrastructure, and banking can play a key role.
BBVA has committed to engaging its stakeholders in the collective advancement of the financial sector's contribution to sustainable development. The bank's stakeholders also includes its employees, so it promotes different internal and external initiatives that champion the values espoused in Sustainable Development Goal 8. Through its involvement, the bank also aims to empower at-risk entrepreneurs and to support the community by promoting corporate responsibility. To this end, BBVA has defined four courses of action: entrepreneurship, financial inclusion, diversity policies, and freedom of assembly.
Entrepreneurship
Entrepreneurship occupied an important place in BBVA's 2016-2018 Community Investment Plan. In 2018 the bank earmarked almost €9 million to entrepreneurial programs and initiatives, benefiting 2.2 million people. The Group's programs especially target entrepreneurs who are in vulnerable circumstances and those whose projects will have a positive impact on society or the environment. For this reason, the bank has created an entire ecosystem dedicated to social entrepreneurship where it collaborates with important organizations such as The European Venture Philanthropy Association and The Aspen Network of Development Entrepreneurs (ANDE).
BBVA Momentum, the BBVA Microfinance Foundation, BBVA Open Talent, and BBVA Blue Challenge are among the most prominent of BBVA's global entrepreneurial initiatives.
BBVA Momentum. BBVA's social entrepreneurship support program – whose latest round is currently underway; candidate registration has just closed – offers participants strategic guidance, training, networking, visibility, and access to financing. Since its debut in 2011, BBVA Momentum has supported 515 entrepreneurs in six countries.
BBVA Microfinance Foundation. The BBVA Microfinance Foundation supports at-risk entrepreneurs with beneficial financing. Its name is synonymous with entrepreneurship, economic development, social development, and hope. It follows two-prongs of activity: building a group of innovative, sustainable microfinance entities and leading the transformation of the financial sector. In 2018, it had two million customers, of which 77 percent were in vulnerable, at-risk conditions.
BBVA Open Talent. Open Talent is the world's largest fintech-focused startup competition. Its objective is to encourage the most innovative technological solutions and give visibility to up-and-coming projects that have the potential to transform the financial sector. After three years, 6,000 startups from eight countries have benefited from this program. In addition, more than €1.5 million in prize money has been awarded.
BBVA Blue Challenge. Notable for its high participation rate, this program aims to help young university students make a difference in the world. Participants learn to channel their energies with training in entrepreneurial skills. More than 3,000 young people have benefited from this program since 2016.
Global Alliance for YOUth. Between 2016 and 2022, BBVA will reach the milestone of helping almost half a million young people gain access to the job market, primarily though its worldwide entrepreneur programs. The bank, together with 20 other large global companies, launched Global Alliance for YOUth, an initiative representing a collective effort to provide young people with the knowledge and skills they need for the jobs that society calls for. To this end, the project aspires to help six million young people improve their skills so they can take part in the working world of the future.
Financial inclusion
BBVA understands that greater financial inclusion has a positive impact on prosperity and sustained economic growth. And so, fighting against financial exclusion complements the bank's ethical and social commitments. Hence, the Group has developed a business model that promotes financial inclusion and allows it to appropriately meet the needs of low income populations in the emerging countries where it operates. Developing a long-term responsible and sustainable business underpins this model, a model that has moved from being highly reliant on human capital and with limited scalability to a scalable strategy, with intensive use of alternative, digital channels and a multi-product approach. Ultimately, this model relies on the the use of new digital technology; more products and services; and innovative, low-cost financial solutions that have been designed for this segment.
The principle initiatives launched this year are:
In Mexico, short term micro credits known as "Salary Advance" reached a monthly average of 10,000 placements. In addition, health insurance contracted and managed through automatic cash machines, totaled 250,000 contracts.
In Colombia, the online account product was launched, thus simplifying the process of opening a bank account for at-risk segments and contributing to financial inclusion. Furthermore, 8,000 new customer attention contact points were added to the physical customer support network, to help address the transactional needs of customers in the at-risk segments.
In Peru, functionality in the electronic wallet, BIM, was broadened to include the ability to withdraw cash from correspondent agents and tellers.
As a part of its program to reinvest in the community, in the United States BBVA offers a wide range of financial products and services especially designed for the low-income communities where it operates. Under the framework of this program, mortgages totaling €391 million were issued in 2018.
Diversity policy
A commitment to people with disabilities has always been one of BBVA's central tenets. In 2008, the bank launched Plan Integra, a cross-departmental program that was conceived out of the conviction that employment is a cornerstone in the promotion of equal opportunity for all.
The objective of this plan is to promote full and total social and workplace integration for people with disabilities. This entails facilitating greater financial accessibility and inclusion for people with disabilities, promoting full integration into the workplace, and fostering greater and better knowledge and awareness about both the needs of people with different capabilities as well as their potential.
For ten years BBVA – together with the Spanish Committee of Representatives for People with Disabilities (CERMI), the Spanish Federation of People with Disabilities (COCEMFE), Spain's Mental Health Association, the association "Full Inclusion", and the ONCE Foundation – has been granting the Integra Award in recognition of those companies that work for workplace integration and inclusion for people with disabilities.
Freedom of assembly
Labor rights and workplace conditions for the Group's personnel is compiled in the conventions, standards, and agreements signed between each entity and the respective employee representatives, in accordance with the existing legal framework in each country.
BBVA and the SDGs
BBVA's Pledge 2025 is an initiative that demonstrates BBVA's efforts to contribute to the UN's Sustainable Development Goals (SDGs). Spearheaded by the United Nations, the 17 SDGs are a worldwide call for the adoption of measures to end poverty, protect the planet, and ensure that all people enjoy peace and prosperity. Included among the priorities defined by the 17 goals are domains such as climate change, economic inequality, innovation, sustainable consumption, peace, and justice. On the whole, given the wide range of its business activity, BBVA contributes to all the SDGs, with both its global presence and the many activities of the BBVA Microfinance Foundation.
With its Pledge 2025 BBVA is actively fighting climate change, demonstrating the stake it has taken in sustainable development. Under the auspices of this initiative, the bank aims to raise €1 billion by 2025 to fight a climate change and promote the development of sustainable infrastructure, in addition to reducing its environmental footprint, and engaging the banking industry in the promotion of sustainable development.
What does BBVA do to promote decent work and economic growth?