Every January, Las Vegas becomes the tech capital of the world. Once again, this year the Consumer Electronics Show, or CES, touched down on the gambling mecca to kick off the technology season.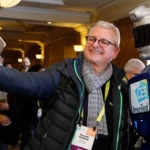 Tech titans and promising startups gathered hoping to set new trends and put out the product that will shatter all records. After all, it was here where the iPhone first launched ten years ago, a success that will be hard to match.
With a recording-breaking exhibit floor spanning more than 2.6 million net square feet, accommodating the almost 3,800 companies that showcased their products, the CES is one of the world's top-three tech conferences.   We will still have to wait to see what surprises will be in store in this year's MWC, the Mobile World Congress (Barcelona, February 27 – March 2), and the two editions of IFA, the International Funkausstellung (Shenzhen, China, May 4-6 and Berlin, Germany, September 1-6).
A record number of French companies - the third largest group behind China and the U.S. - participated in this 50th edition of the CES, which saw the advent of new fields of innovation such as sleep, beauty and smart energy technologies. Virtual reality, last year's hottest trend, seemed to lose a bit of steam despite tremendous interest from businesses to drive its widespread adoption beyond gaming.
This year, however, it was the Internet of Things, and Artificial Intelligence that stole the show – and the floor space – during the event. The push to enable connectivity features in objects such as shoes, cars, brushes, refrigerators became the mantra of the event, which no longer conceives unconnected devices. As Samsung CEO BK Yoon said "in 2015 we focused on connecting devices. Today we are moving beyond mere connectivity." 2017 took that step: the idea is to have everything connected, and controlled by means of voice commands.
Voice commands also reach refrigerators - LG Newsroom
Alexa for everyone
Amazon didn't unveil any revolutionary products this year, Alexa, but its virtual personal assistant became one of the stars of the show. The company was everywhere thanks to its collaborations with a number of companies aiming to leverage Alexa's potential. In fact, Amazon has gone as far as proposing Alexa as the standard for this incipient sector, much like what Apple's Siri, Google's Now or Cortana are already aiming to become for the mobile industry. Alexa is already taking things one step further, to become the core of the smart home make lives easier, promising to do everything from helping users with their shopping – through Amazon, of course - to providing traffic and weather updates, playing media content through smart-TVs, etc.
Some of the most talked-about collaborations during the tradeshow were:
Other innovations
Unsurprisingly for a consumer electronics and technology event, smart-TVs were also one of the stars of the show. The competition this year: the thinnest and the most connected television. Contenders included LG's 2.57 mm Oled TV, Samsung's QLED smart-TV line, with a smart control center for the ultraconnected home, and Sony's range of OLED televisions, such as the Bravia A1E, a 2.5mm thick Google Home enabled smart-TV in which the display itself doubles as the speaker.
The automobile industry's driverless car proposals also caused quite a stir. Faraday, Tesla's rival, debuted its futuristic FF91. The company's senior executives emphasized some of its advantages over its rivals: "Our smart car will learn from you. For starters, it will recognize you, but it will also know how you like to have your seat placed or where you usually go," said Hong Bae, Faraday's Director of Advanced Drive Assistance Systems (ADAS) & Self-Driving. However, the presentation was a bit short on the specs side – omitting key details such as the price and further insights into the inner workings of the vehicle. Many of the attendees, such as Quartz's Mike Murphy posted skeptical reports about the company's presentation, which even failed in its self-parking demo.
Smart bed Sleep Number 360 made a big splash in the "new categories" section. The bed comes with foot warmers and snore detectors, can adjust to its users' sleeping position and the ambient lighting to help users get a better rest. Hair Coach, Kérastase's revolutionary take on the hairbrush, also drew a lot of attention. Powered by Withings, a Nokia company, it helps users repair their hair with help from a microphone, an accelerometer, conductivity sensors and  3-axis load cells that measure the force applied to the hair and the scalp when brushing, capturing info that a mobile app processes and displays through to better understand and improve brushing patterns.
Although the usefulness – and need – of some of these products has been questioned, CES 2017 has set the baseline for the trends that will dominate this year: more connected devices and voice interaction to, theoretically, make our lives easier.
Cover image | CES 2017