April & May Recap: BBVA Compass, a bank of opportunities
BBVA Compass' record quarterly earnings for the first quarter of 2018 was top news on bbva.com for the month of April. Other leading news in April and May reflected the bank's commitment to small businesses, financial education, and being an engine of opportunity locally and within its communities. The bank also published a series of articles that spotlighted its culture, employees and digital transformation.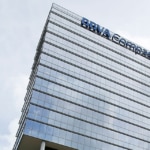 The tenth annual BBVA Compass Dynamo Charities Cup takes place on June 29, with proceeds benefiting KIPP Houston Opportunity Campus.
BBVA Compass Dynamo Charities Cup Features Houston Dynamo & CF Monterrey in MoneyGram SocioMX Tour on June 29
On June 29, the Houston Dynamo will take on CF Monterrey in the second match of the MoneyGram SocioMX Tour as part of the 10th BBVA Compass Dynamo Charities Cup, an annual fundraising event that brings prominent international soccer teams to Houston.
BBVA Compass kicks off its Live Music Session series in Dallas with Luke Pell
BBVA Compass and live entertainment company AEG kicked off the BBVA Music Session concert series in Dallas with rising country music artist Luke Pell. The series is part of the bank's ongoing commitment to creating positive experiences for its communities.
Making the branch mobile
The digital transformation taking shape at BBVA Compass' branches is having a big effect on the efficiency and convenience of banking. Head of Retail Banking Çağrı Süzer said the bank's retail network is supporting a universal banker approach.
Guided by values
BBVA Compass Head of Business Development Pepe Olalla said that BBVA Compass' digital products — such as its online-based consumer loan product, Express Personal Loan — are guided by the bank's core values.
Dear Rosilyn: What is our culture?
In the latest edition of her signature career advice column, "Dear Rosilyn," BBVA Compass Chief Talent & Culture Executive Rosilyn Houston shared insight about the bank's culture and how employees help shape it.
Top three ways to use a HELOC
One of the ways homeowners can tap into their homequity is with a home equity line of credit (HELOC). BBVA Compass Director of Mortgage and Home Equity Originations Jose Pascual shared three reasons why homeowners should consider a HELOC.
May Recap
BBVA Compass launches Rethink as new addition to Employee Assistance Plan
BBVA Compass recently announced Rethink, a new addition to its Employee Assistance Plan and employee benefits program. Rethink provides support to employees raising children with learning and behavioral challenges or developmental disabilities.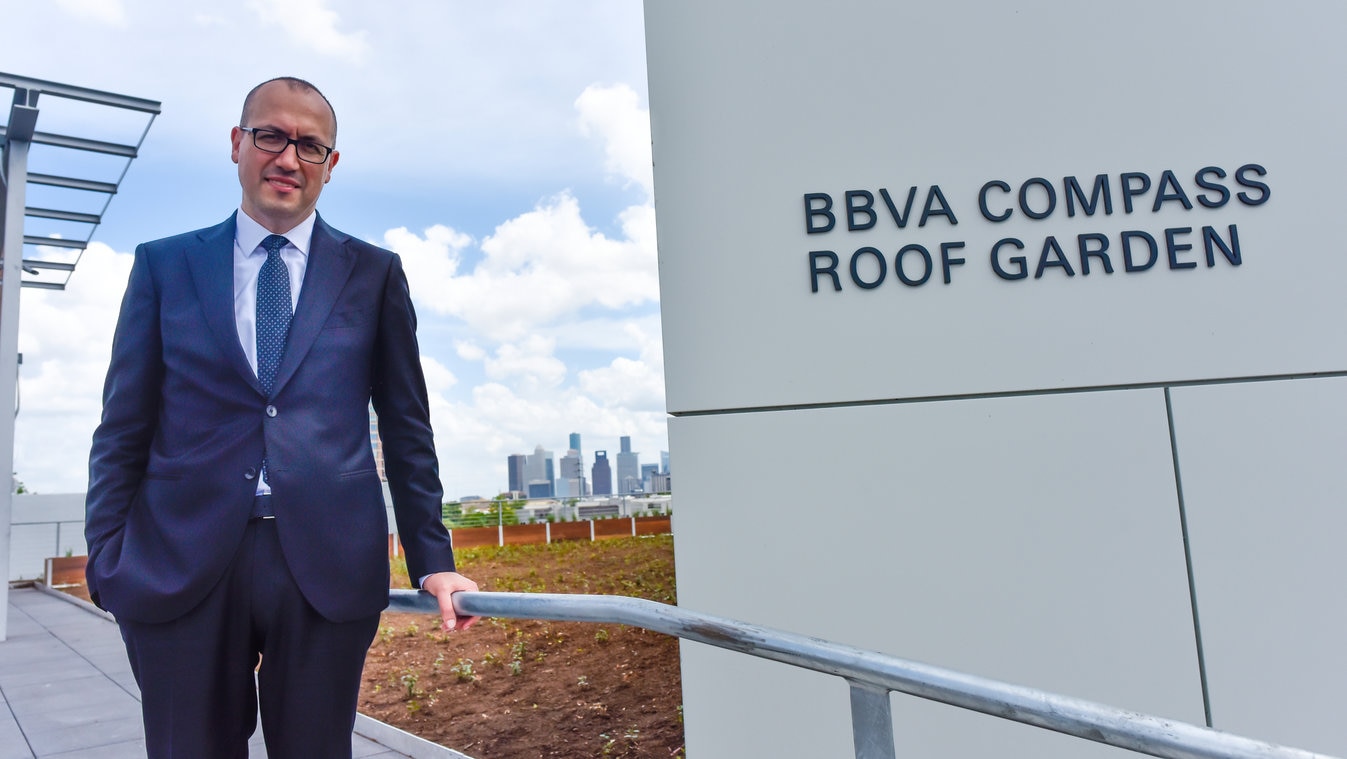 BBVA Compass President & CEO Onur Genç stands on the BBVA Compass Roof Garden located above the Museum of Fine Arts, Houston's new Glassell School of Art.
The Pitch contest comes back again to create opportunities with BBVA Compass and Houston Dynamo
For the third year in a row, BBVA Compass and the Houston Dynamo kicked off The Pitch, a small business contest that creates the opportunity for Houston-area entrepreneurs to showcase their business and score $10,000.
BBVA Compass and the Houston Dynamo announce four finalists for The Pitch contest
BBVA Compass and the Houston Dynamo  announced the four finalists for their annual contest, The Pitch, which creates the opportunity for a Houston-area small business to score $10,000.
Excellence in mobile experience and adoption
Thanks to its banking app, BBVA Compass has achieved a 30 percent year-over-year jump in active mobile customers. Head of Business Development Pepe Olalla said the growth underscores the bank's drive to transformation marked by excellent digital experiences.
UAB, BBVA Compass and Legion FC Celebrate Stadium Expansion
The University of Alabama at Birmingham Department of Athletic, BBVA Compass and Birmingham Legion FC celebrated the stadium expansion of BBVA Compass Field on the campus of University of Alabama. Expected for completion in March 2019, the soccer stadium will have a maximum capacity of nearly 6,000.
BBVA Compass Iron City Showdown brings the Houston Rockets and the Memphis Grizzlies to Birmingham
At a press conference on Thursday, May 3, BBVA Compass and the Houston Rockets officially announced BBVA Compass Iron City Showdown, the preseason game between the Houston Rockets and Memphis Grizzlies taking place in Birmingham on Oct. 2.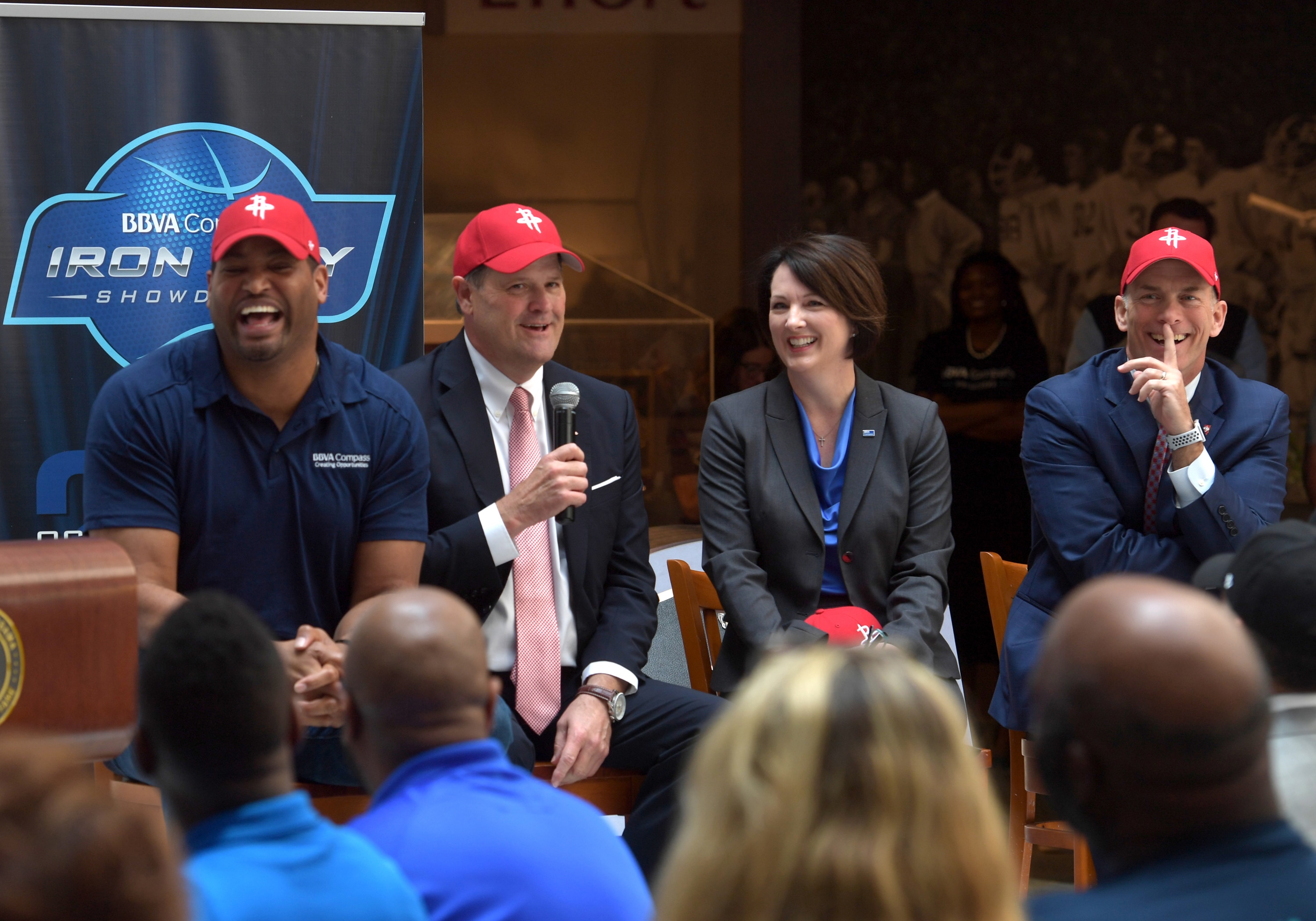 Announcing the NBA game in Birmingham are (from left to right): Robert Horry, Rockets and Alabama basketball legend; John Croley, vice president of corporate development with the Houston Rockets; Andrea Smith, Birmingham CEO of BBVA Compass; and Scott Myers, executive director of the Alabama Sports Hall of Fame.