BBVA's digital customers have once again set new records in their adoption of the groups digital channels and offerings, the bank is reporting.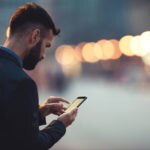 The global number of digital sales now conducted through BBVA's digital channels has topped 37.5% percent for the first time. During the first five months of 2018, the bank almost doubled the number of products and services it sold through online channels.
This trend points to accelerated and consistent growth both in the number of customers that use these channels as well as in the number of products and services digitally available.
"In 2019, the objective is to have mobile customers making up 50 percent of its customer base."
The Group now claims 24 million customers who use digital channels, of whom 19.3 million interact with the bank using a mobile device. Over the course of 2018, the Group anticipates that digital customers will represent 50 percent of its global customer base. In 2019, the objective is to have mobile customers making up 50 percent of its customer base.
Global progress
BBVA's month on month results are the fruit of a solid digital strategy based on various pillars, such as a commitment to design as a strategic element; the use of data analysis for the continuous improvement of processes; and an agile-based operating model that facilitates the optimized launching of self-service (DIY) products worldwide and that address customer needs such as personalized and intelligent one click products.
Thanks to these efforts, BBVA's digital platforms have received various recognitions. The most recent of which has been the recognition by the consultancy Forrester Research, which has named BBVA's mobile banking app a leader in Europe. According to their report 'The Forrester Banking Wave: European Mobile Apps - Q2 2018' BBVA Spain has the top-ranked app in Europe with an overall score of 87/100. BBVA also took the top spot in last year's 'European Mobile Banking Benchmark' report, also published by Forrester.
BBVA commits to the continued launching of the kinds of products that enhance the use of the bank's app as something more than a mere consulting tool. The objective is to offer customers solutions that help them make better financial decisions and get the most out of both their money and their data.The new analysis stresses the "perfect balance between comprehensive functionality and an excellent user experience" in addition to the availability of a "wide range of new generation functionality and tools for personal finance management." Among which, BBVA Valora, the house-hunting tool that lets users compare prices for both rentals and homes to purchase as well as estimate associated expenses; or Bconomy's functionality, "Predicted Transactions," which gives the user a month-end preview of his or her financial status based on recurring expenses.