BBVA customers can now access online appraisal of their financial health
BBVA's 'BBVA Bconomy' is a new function included in the BBVA app and website that allows customers to know the state of their financial health and provides made-to-measure plans to improve it. The tool measures the evolution of income and expenses, the level of savings and spending on housing and debt levels to arrive at an average rating of the customer's financial health. A reading of over 50% indicates an acceptable level of financial health, although measures on the savings front might be required to improve it. Besides diagnosing the state of their financial health, 'BBVA Bconomy' also assists customers with personalized recommendations and tools according to their situation. BBVA is the first bank in Spain to offer such financial analysis to its customers.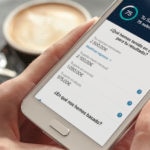 BBVA aims to provide its customers with all of the information needed on their financial situation to facilitate their decision-making. 'BBVA Bconomy' allows customers to know how they are managing their finances and to identify how to improve aspects of this in order to embrace their life cycle with greater peace of mind.
To enjoy good financial health it is recommended allocating a maximum of 50% of one's income to fixed costs, 30% to variable costs and 20% to savings. You should also have a financial leeway of at least six months, that is, a savings cushion of sufficient size to maintain ones living standard for six months in the case of any unexpected development.
Snapshot of one's financial health
A BBVA 'Bconomy' Reading is on a scale of 0 to 100 points based on four variables: the monthly savings of the customer; his/her financial breathing space,  spending on housing and outlays on loans and deferred card payments. The score of the customer in each of these variables is derived from an analysis of monthly income, monthly expenses, spending on housing and debt.
Each of the four categories makes up 25% of the total score. A customer can have a poor reading in one or more categories but an excellent performance in others that compensates in the total score, which is the average of the four variables. A score of below 50% indicates inadequate financial health in that one is spending more than one takes in.
BBVA comes up with an action plan of personalized measures that can help customers improve in each of these categories and optimize savings. For example, if a customer is 20% below the recommended monthly savings level the option of budgeting to control spending is available.
The Director of Digital Transformation at BBVA España, Gonzalo Rodríguez, explains that  BBVA Bconomy  "is in line with BBVA's aim of creating new opportunities for our customers. It helps them have better control of their financial situation and facilitates savings to provide a cushion against unforeseen events. Money is the main cause of stress for people and with BBVA Bconomy we want to help reduce this".
The Director of Data & Analytics and Open Innovation at BBVA, Elena Alfaro, underscores that the "intelligent use of data brings with it customization, significance and improved decision-making. We want our customers to better understand and control their finances to bring them more peace of mind while achieving their goals".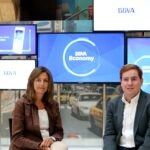 Elena Alfaro, Head of Data and Open Innovation at BBVA, and Gonzalo Rodriguez, Head of Digital Transformation at BBVA Spain
Socio-demographic comparison thanks to big data technology
'BBVA Bconomy'  also provides the customer with a socio-demographic comparison with  others in one's environment with similar characteristics such as age, sex, salary bracket and postal code.
This provides the customer with a benchmark to gauge if his/her spending is above or below average. For example, a customer can compare his electricity bill with that of other people in the same area, the same age range and with similar income. This allows the customer in turn to introduce solutions that foster saving such as changing the provider of certain services.
BBVA, the first bank with this service
BBVA is the first bank in Spain to offer its customers a digital financial diagnosis. This analysis provides an exact picture of all of one's income and costs to allow one to opt to save more, reduce costs, or otherwise maintain one's  level of living. It is the customer who decides if he/she wants to access this information and whether to follow the recommendations of BBVA. This tool was made available to all customers on September 24 both on the web and as an app.
'BBVA Bconomy', a personal finance management platform
BBVA Bconomy groups together other BBVA tools for managing and controlling finances such as Mi día a día (My Day to Day),  Mis presupuestos  (My Budgets) and Mis metas (My Goals.)
These all allow you to categorize spending in order to have better control of outlays ( beauty treatment, fashion etc) by setting a budget for a specific category or establishing a savings goal.
The customer can use these tools to put in place the recommendations of 'BBVA Bconomy'.
One of the aspects valued by Forrester Research that sets the BBVA app apart as the best in the world of mobile banking is that it offers the "most surprising" functions. With BBVA Bconomy, BBVA reaffirms itself as a pioneer in digital services.