BBVA's roll out of global products and services is delivering real results
The global products and services BBVA is now delivering across its countries, driven by the adoption of re-useable code and technology, are offering a unique and personal experience to customers around the world.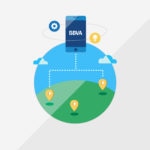 As part of its goal to become a digital company, BBVA is committed to creating 100% global products that offer users the same personalised experience, no matter from where they access the services.
The aim is to offer an identical, homogenous experience with the same design, navigation and user friendliness, though specific to them, to customers anywhere in the world. This is how the technology giants like Google, Facebook and Amazon do it, ensuring that the location from which a customer connects does not affect the type and quality of product they receive.
In fact, BBVA is the first bank to bet on the development of global products in order to ensure that its purpose of "bringing the age of opportunity to everyone" - is fulfilled all over the world. This allows BBVA to offer its customers the best banking solutions and the best opportunities through the use of data - any time and anywhere.
This philosophy is already materializing at BBVA thanks to the work of multidisciplinary teams, the incorporation of new agile work methodologies - speeding up product development - and the Single Development Agenda (SDA). These pillars are bolstered by a global vision that seeks to ensure that the developments created in any location can be re-used by the Group in order to offer them in another market quickly and easily.
What is a global product?
BBVA has established a series of essential requirements that all digital products and services should have in order to be able to operate globally. They are predefined best practices that determine how the bank engages with customers through its products, wherever that may be.
One of these basic elements is uniformity in the design criteria and user experience, as well as the inclusion of TCR principles. These principles, which stand for "Transparency, Clarity and Responsibility", have been part of BBVA since 2014. The purpose of the principles is for customers to be well-informed and clearly understand their relationship with the bank - also in the digital domain.
Another "best practice" is to include principles of behavioral economics in the development of every global product. This discipline combines principles of psychology and sociology to support people to make the best financial decisions.
In addition, all global products must comply with a set of common standards for all countries, standards that define how the bank uses data and establishes rules for data collection and measurements - incorporating issues like ethics and building trust. This, powered by AI algorithms which allows for insight to be generated - makes it possible to better understand users' behavior in order to constantly adapt products to the needs.
Finally, all global products must include standards defined by BBVA for the creation of APIs that allow the products to operate on a global scale, while also adapting to local needs when necessary.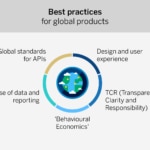 These basic common elemments help speed up product development globally.
Products with a global vision
Below are the milestones BBVA has achieved in recent months as part of its global products strategy:
Global mobile banking platform
The first example of a global product launched by BBVA was the global mobile banking platform. The launch of this tool marked the beginning of a new stage in the Group's transformation, as it enables the unification of design, features and customer experience in all the mobile banking solutions across the different locations.
Thanks to this platform, the different components that comprise each app can be re-used, considerably improving the time-to-market in the different locations. In many cases, the time it takes for the solutions to be in customers' hands can be reduced by 50%. And the cost of developing these solutions is up to 40% lower.
"BBVA's global vision gives it an advantageous position over competitors in terms of maximizing the potential of data"
The platform was first launched in Mexico and shortly afterwards in Uruguay, which became the first country in South America to have a global mobile banking platform. The next stop for the mobile banking platform is Peru in early 2019.
In order to develop this platform, the global development teams' (those in charge of designing products like BBVA Wallet) knowledge and experience was combined with the knowledge and experience of those in charge of the award-winning mobile banking app at BBVA Spain. The result combines the best of every design, feature and digital experience created by BBVA in order to make it available to customers in all countries in a uniform manner.
For the past two years, the Spanish app - which will also be integrated in the global mobile banking platform shortly - was named the best in the world by the consulting firm Forrester. It won this title thanks to the "magnificent balance" it strikes between a wide "range of highly useful functions" and an "excellent user experience".
Another example of a global product at BBVA is BBVA Invest, the financial advisory tool that offers a personalized experience and uses data to help customers achieve their savings goals.
BBVA Invest was also built with a global vision in mind in order to offer the tool in new markets (after Spain) with the same features, design and data-based facilities for customers in other parts of the world. It will be available in Mexico shortly, and subsequently in other countries.
BBVA was the first bank in Spain to include access through its app to products customers have in other banks. This "aggregator" allows customers to have a more comprehensive overview of their finances. Using BBVA's app, customers can manage accounts, cards from other banks, as well as investment funds, pension plans, deposits, securities, mortgage products and consumer loans.
This product, which will continue to add new features, was also conceived as a global product and will soon be available in Mexico and other countries.
As part of its payment strategy, BBVA explores new ways for customers and businesses to interact - methods such as "invisible payments". Thanks to the use of different technologies, they facilitate payments between the customer and the establishment, reducing wait times.
In fact, BBVA has already launched a solution like this in its headquarters in Madrid, where employees can use their faces to pay thanks to a facial recognition system, in addition to other experiences. This system has been operational since the summer of 2018 and has successfully facilitated thousands of transactions.
The development of these new payment experiences will also go global. After being rolled out in Spain, different modular solutions are being developed that adapt to the circumstances and needs of customers in different locations in order to improve their payment experience.
BBVA's commitment to global product development is part of its determination to lead financial services in a highly competitive environment, marked by the arrival of new players (such as "fintechs" or tech giants). In this context, BBVA's global vision gives it an advantageous position over competitors in terms of maximizing the potential of data and offering customers new opportunities and better ways to manage their finances in any part of the world.