If there is something that unites the BBVA Paraguay team is its members' passion for the brand. And no other color reflects that passion better than blue.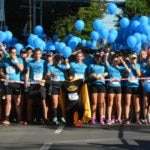 Every year, the company organizes a series of blue events and initiatives intended to reflect, in each action, each motion, the collective and shared feeling towards the values on which the pride of belonging is built.
A tide that engulfs the city
Marea Azul, the Blue Tide, is the oldest of all these initiatives. When it started, this 5km and 7km bicycle race was exclusively intended for employees. Over the years, it has grown and expanded to welcome relatives, customers and friends. This year's edition, a blue tide of 1600 runners, all dressed in blue, will inspire the city to take on new challenges.
Today, Marea Azul has established itself as one of the city's most important races. Originally intended to promote healthy habits, Marea Azul has built its success on its participant's passion for sports and for making a difference. Proceeds from the registration fees are donated to a charitable organization. TECHO Paraguay, the emergency housing nonprofit organization, has been the recipient of the past few editions.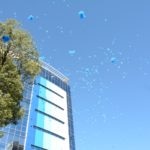 Every year, the race brings more and more people together, people that want to challenge themselves, have fun and set new records.  That is how BBVA promotes active lifestyles as a way to move ahead.
Blue Challenge: creativity, wit and team work
Besides Marea, BBVA Paraguay also organizes the Safari Desafío Azul (Blue Challenge Safari), a three-day in-company competitive event where co-workers team up to take on challenges. All challenges seek a clear goal: building values such as integration, movement and the sense of belonging. And, above all, they seek to strengthen the ties inside the BBVA team, to help it grow as a solid and cohesive group of people.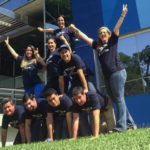 The event takes place in a fun and healthily competitive atmosphere, where participants cooperate to reach a common goal, regardless of the area in which they work. This year's event put teams' creativity and dynamism to the test, proving that passion is the fuel that drives BBVA to reach its goals. The members of the three winning teams were invited to watch a Paraguay vs. Colombia soccer match.
A Blue Event for the Youngest
In Paraguay, Children's Day is celebrated on August 16, and the date has become quite important in the country's calendar. That is why BBVA Paraguay joins in the celebrations and organizes a large event every year, inviting he children of employees to enjoy a day of full of fun within the bank's premises. On the occasion of this day, the bank sets up a wonderful area where families are invited to share, play and have fun.
In 2016 we welcomed over 300 children and handed out over 450 gifts. The Aventura Azul event is packed with a wide variety of activities, such as: visiting mom & dad's workplace, a magic show, the crazy balloon, face painting, sports areas, and more. The evening concludes with a great afternoon snack and gifts for all the kids in attendance.
All activities are a clear reflection of BBVA's values: teamwork, creativity, solidarity, responsibility, passion, commitment. Thanks to these blue initiatives we are able to build a sense of belonging and union, showing that the unit gets stronger every day and every year.