BBVA Open Talks Madrid: Does AI condition our decisions?
On Tuesday, April 17, a panel of fintech professionals, investors and entrepreneurs gathered at BBVA Open Space, BBVA's innovation hub in the heart of Madrid, to attend the first edition of BBVA Open Talks in Spain, and try to answer a question that is becoming increasingly relevant in a context marked by artificial intelligence:  "Are we aware of how we make decisions?"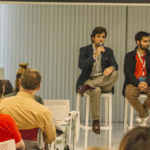 Technology is already an intrinsic part of people's lives, and artificial intelligence, an underlying reality.  To fully understand this concept, which already powers internet search, online shopping, and movie recommendation engines, one needs to consider all its nuances and a large number of unanswered questions. Will artificial intelligence make us more free? This was one of the questions up for debate at Open Talks Madrid, a workshop organized by BBVA Open Innovation, where the ethical implications of these technologies became more relevant than ever. These open discussion events have already taken place in cities such as Mexico City, San Francisco, Medellin or Lima.
The complexity of making decisions
Rodrigo García de la Cruz, CEO of Finnovating, a 'startup' that offers advisory services to companies in the technology sector, was chosen to deliver the opening presentation. For the CEO, also Chair of Fintech IberoAmérica, being aware of the environment that surrounds a company is crucial, because "at the time of making decisions, we need to rely externally on the 'startup' ecosystem." Without this, according to Garcia, it will be hard to make headway toward a future strategy. "There are already more than 681 'tech' startups in Spain, and this adds complexity to the ecosystem," he added.
Another factor that stood out was the need to detect future trends in order to build new business models. García de la Cruz highlighted as trends for 2018 the rise of the 'neobanks', artificial intelligence, 'regtech' and companies embedding 'blockchain' technology into their processes.  "The startups that use this technology will be the ones that succeed, changing their name to 'FinteX' or 'PropteX' to distinguish themselves from others," he explained.
Alejandro Rodríguez San Segundo, a member of BBVA's global Behavioral Economics team, also shared the idea that the context needs to be taken into account when making decisions. His presentation focused on this new discipline, Behavioral Economics (BE), understood as "the merger of economics with the fields of psychology and sociology, to study the biases or factors that affect people when they have to make an economic decision, regardless of whether it is more or less important," he explained.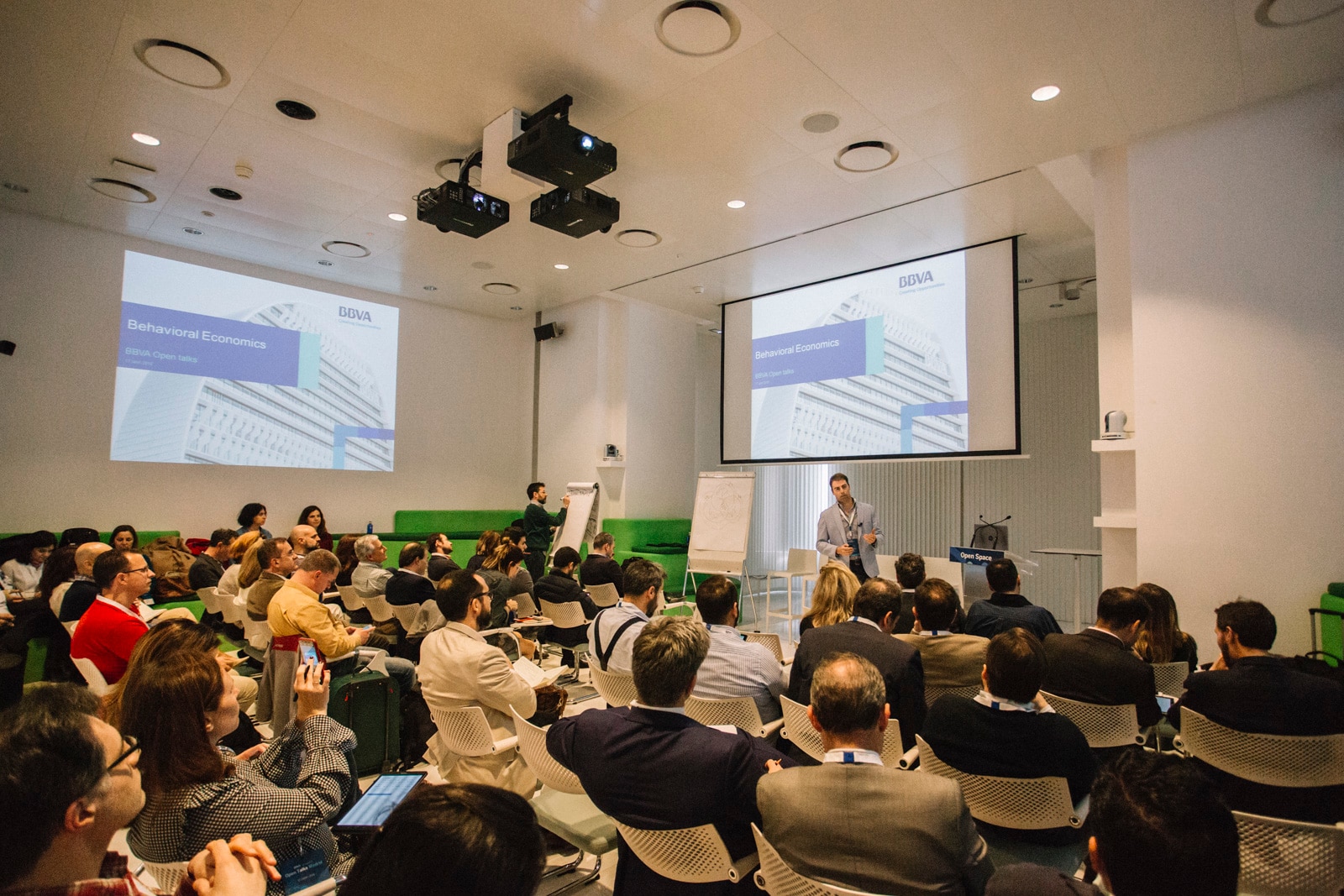 Alejandro Rodriguez San Segundo's presentation about behavioral economics
This new approach is influencing BBVA's strategy when it comes to communicating with its audience:  "Before, when customers needed our products, they found barriers that prevented them from continuing.  Now, with the 'Behavioral Economics' methodology, we facilitate and simplify their choices, making search processes simpler and more intuitive." Rodriguez also stressed that the bank hopes that this new discipline will help it earn its customers trust, so that it can help them make the best decisions for their lives.
'Machine learning, people doing'
Artificial intelligence, an omnipresent topic in today's business world, was also chosen as one of the focal points of the event.  This technology is key both for companies that want to make strategic decisions, and for those who want to understand how their customers - real or prospective - behave.
KNOWDLE Chairman Felipe García Montesinos, noted the role of AI, but accompanied by all that so-called "collective intelligence (CI)" can provide.  "It's all that other people know and I don't, combined with what I know that others don't," said the expert, who explained that people make more than 35,000 decisions a day, the vast majority influenced by the audiences and the people they depend on.  "With a CI-based algorithm, anyone can access this open knowledge, this shifting 'big data'," he said when explaining how Buaala works. Bualaa is the app he has developed, which makes recommendations based on the interests of the user and his/her friends.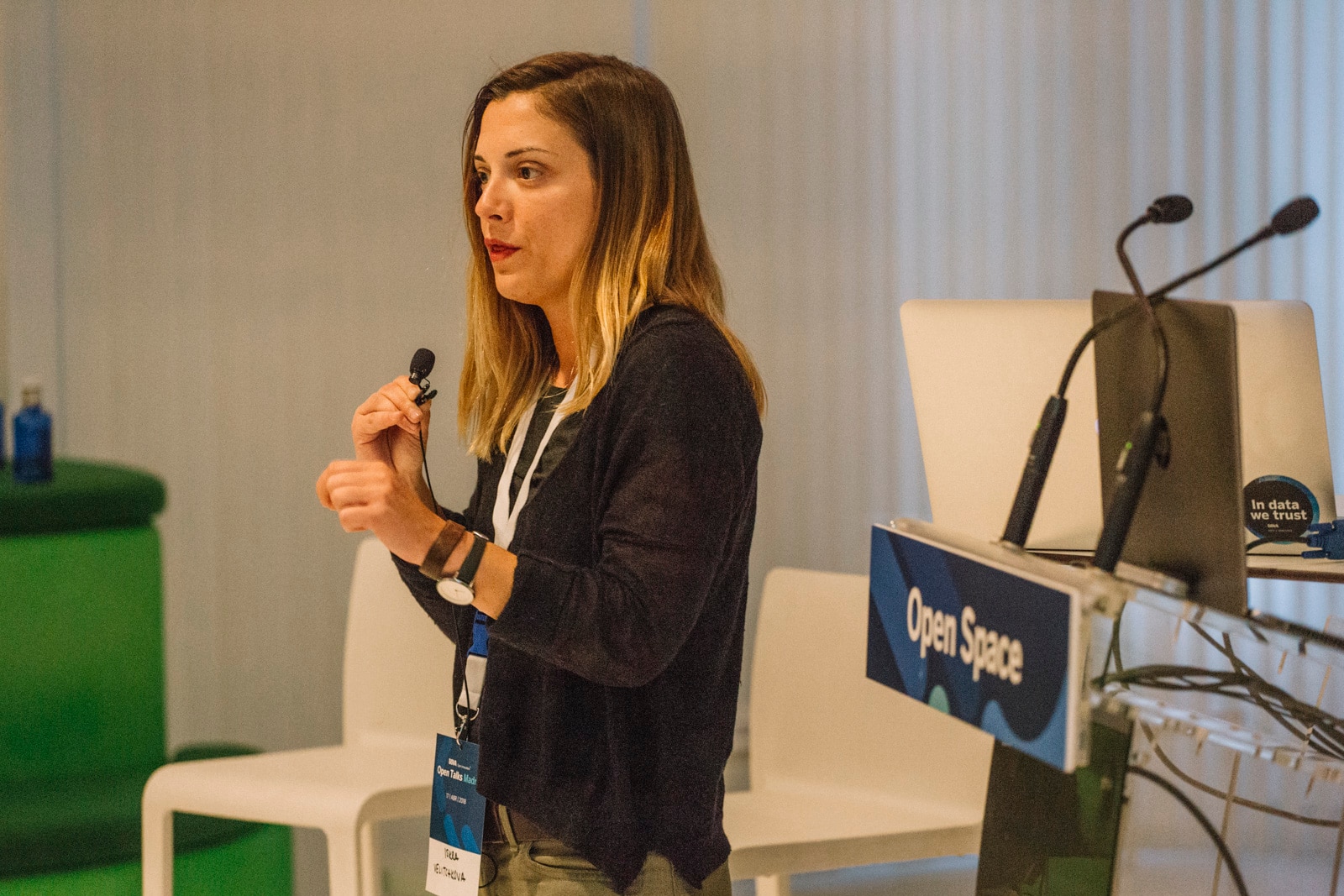 Iskra Velitchkova talks about algorithms and recommendation systems.
Gema Parreño, data scientist of BBVA Innovation & Technology, moderated a debate with two big data experts, during which she posed what was one of the hardest questions asked throughout the event: "Will artificial intelligence make us more free?".  A question that the two experts answered quite differently. For Victoriano Izquierdo, CEO and founder of Graphext, "we are faced with so many possibilities that we are thrown into a state of constant anxiety," while AI can help us make better decisions by narrowing down the overwhelming range of existing alternatives, taking into account our individual needs.
Jorge Schnura, COO and co-founder of Sourced, also remarked that one major limitation to artificial intelligence is that it tries to emulate the human way of thinking. It is "the summary of a global intelligence, not an intelligence that goes beyond that." Something regarding which Izquierdo said that "only when we build an AI capable of conceptualizing the world, will we be close to developing an intelligence beyond human intelligence"
Currently, AI is the summary of a global intelligence, not an intelligence that goes beyond that." Jorge Schnura
Another critical issue when considering the potential risks of AI are biases. An issue that Izquierdo would solve through education, fostering critical thinking in people to help them become more aware of the way they reason. From Sourced they prefer to take another approach, and use biases to create codes in a way such that they adapt to the company they serve. In his opinion, "if there had been no bias, the craziest ideas in the world would never have happened, because if we do not doubt and we don't make mistakes, we will never take the next step".
Iskra Velitchkova, expert in visual thinking at BBVA Data & Analytics, concluded the event with a video entitled "Why a man should climb Everest?", an original way of explaining how human reasoning does not always follow the direction that current algorithms tend to predict. Finally, using Proust's famous 'madeleine moment' as an example, she invited the audience to think about the future of recommendation engines, involving emotional factors in decision-making processes, as Alejandro Rodriguez San Segundo had previously indicated in his talk.