The Money20/20 Asia conference, which was held last week in Singapore, is all about uncovering the future of financial services.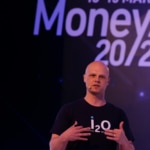 As you would expect, the big banking providers are often on show, explaining how they will deliver for their customers and clients in the future. But quite often, the most interesting indicators of how the banking sector will develop are to be found from peripheral companies – those startups for whom innovation is a life or death business.
For the startup community, big conferences —and while the organizers of Money20/20 Asia have not released any official figures, it was certainly several thousands in attendance— are a chance to meet potential customers, investors and collaborators.
In fact it is precisely for that reason that BBVA goes along. As a bank that has a worldwide reputation for leading digital banking and working with the fintech community in true partnership – BBVA gets the chance to begin and build relationships with those on the cutting edge of future financial services.
This the bank did last week, meeting everyone from biometric identity providers and AI chatbot businesses to personal investment businesses that use social media as a way to gauge your risk profile and huge progressive investment firms who are eyeing potential partners to create with.
BBVA also took the opportunity to be a provocateur – with the Bank's Global Head of Customer and Client Solutions, Derek White, delivering a keynote address entitled "Can banks be a threat to Big Tech". The purpose was to demonstrate how BBVA is shifting both its business model, and its processes and structure, to bring in customer focused products that marry up data and money together, in a user friendly way, to give more value to customers and clients.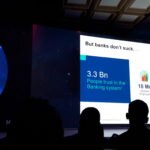 Derek White, Global Head of Customer and Client Solutions, during his intervention in Money20/20 Asia. - Money20/20
BBVA also gave exposure to some of the startups who had been through the Open Talent fintech startup competition, bringing four previous finalists, including last year's winner Change, over to Singapore to help them increase their presence and win new business.
How to protect digital identities
The bank also participated in a dedicated panel session on future digital identities, where the fundamental question was how do we build robust systems for securely protecting, and validating identity in an age that is shifting from face to face interactions to purely digital. The questions posed were should it be managed as a closed system run by Governments, or a more open system managed by businesses like banks where regulation dictates strong proof checking. Or indeed should it shift to a decentralized model where the individual holds their own identity and blockchain is used as a key code to validate.
Perhaps one of the more interesting angles that came from the three-day event was where and how other industries are moving into banking. It has been known for a long time that the likes of Amazon and Facebook are moving into the sector – Facebook for example recently secured approval for an e-banking license in Ireland.
Although one interesting development from the conference was a statement from Diana Layfield from Google that this Big Tech player had no intention of becoming a bank – and that its focus was on working with banks and fintechs to build their future. However one big business that did launch a bank at the event, was Air Asia, the low costs SE Asia carrier started by entrepreneur Tony Fernandes – who gave the conference's closing address.
Air Asia has founded its own independent startup bank called Big Pay, that looks to leverage the data it gets from its customers, to provide them with tailored banking services. Returning to the theme White delivered – the power of data to improve customers lives and add value – Air Asia and Big Pay are banking that the value their customers give them in terms of flights taken, spending patterns, and of course everything transacted in their airplanes' cashless cabins – to find their unique selling point.
Derek White, said: "For me, the big three themes coming out of the event were the blurring of industry lines, the increasing value and focus on data, how we manage future, fluid, digital identities, and most of all the partnerships that will be created between big players and the new kids on the block".
The BBVA's Global Head of Customer and Client Solutions said too that's "great news for BBVA", because the bank has been focused on precisely those topics for some time now. "Things like the ecosystem we have built, the award winning products and services we are delivering, and our strong commitment to fostering partnership with fintech, demonstrate just that.
"It's clear the future of financial services will involve more than just banks – but that ultimately is great news for banks, partners, regulators, and most importantly our customers and clients."