Garanti BBVA Mobile wins the iF Design award, the most prestigious accolade in the world of design
Garanti BBVA Mobile's innovations and benefits have earned the bank an iF Design Award, one of the most prestigious in the world of design.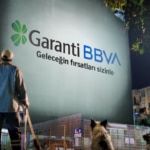 ­­­The iF Design Awards, established in 1954, are considered a top-level accolade and recognize extraordinary designs. This year's edition, with about 10,000 submissions from 52 countries, was the most important in its history.
"We are constantly upgrading our digital channels to meet the changing needs and expectations of our customers," said Garanti BBVA Executive Vice President Işıl Akdemir Evlioğlu. The bank updated its Garanti BBVA Mobile app at the outset of the pandemic to deliver a better user experience and easier access to all banking features. The app's landing page was also renewed with new remote banking features.
One of the standout new features is "Bank without visiting the branch", which provides users with detailed instructions to carry out any transaction and link them directly to the feature they need, thus allowing first-time users of the Garanti BBVA Mobile to start banking without any further assistance.
Each award we win motivates us to better ourselves
One of the baseline goals sought with Garanti BBVA Mobile's redesign was to provide clients with access to solutions to their financial needs regardless of their location. As the vice president explained, "customer comes first" is one of the company's corporate values, which inspire and inform all of the bank's initiatives and designs.
Finally, Isil Akdemir Evlioğlula expressed her satisfaction about seeing Garanti BBVA Mobile's designs recognized by a world-leading platform such as iF Design. "Each award we win motivates us to better ourselves," she added, and concluded noting that, in the future, the bank intends to focus on boosting personalization in all client interactions, as well as delivering a better banking experience and help customers improve their financial health.