Garanti BBVA was the corporate sponsor of Digital Age Tech Summit 2021
Organized for the 14th time by focusing on technology, Digital Age Tech Summit under the corporate sponsorship of Garanti BBVA hosted creative names of the digital world.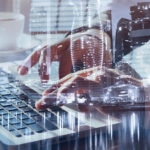 The event, held online with the theme of "Future Proofing", hosted the audience in the halls of "Digital Inspiration" where new business models are processed and "Technological Wellbeing" which focuses on the solution of the problems that technology brings to our lives.
Speaking at the New Codes of Digital Economy: Health, Innovation, Performance panel, Garanti BBVA Executive Vice President Işıl Akdemir Evlioğlu, evaluated such issues as Lessons from The Past and Upcoming Trends. Işıl Akdemir Evlioğlu evaluated the pandemic period in terms of the banking sector and said that the pandemic changed the whole business model in a week. Evlioğlu stated that customer expectations have also changed a lot this period. "This environment made us realize that we need to be simpler. We redesigned our mobile banking app for that simplicity so that they feel safe and secure in that platform."
Işıl Akdemir Evlioğlu also mentioned the future of the finance sector and Garanti BBVA's future projects. "We would like to focus on smarter and customized, personalized experiences with our customers. We are trying to analyze data to understand the needs of the customers. In future, the balance between digital ecosystem and human touch point is to ensure trust based relationship with the customer", she added.
Garanti BBVA Retail Digital Solutions Director Burçin Bıkmaz and Garanti BBVA Payment Systems Executive Vice President of Marketing & Digital Seçkin Çağlın also evaluated the digital transformation in the banking sector by speaking in the panel titled as Finance That Keeps Far Near: Time and Space Independent Banking.