The startups of Elon Musk and other big tech players
Creating a startup isn't the exclusive territory of new entrepreneurs or young people with moneymaking ideas. Big technological companies and their CEOs have recognized how to spot potential in emerging companies, buying them outright or overseeing the development of their growth potential.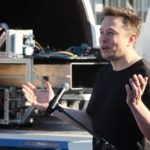 A startup, or emerging company, tends to specialize in untapped technological innovations with good market growth potential. Last year the analysis company Quid studied 50 startups aspiring to become unicorns. All of them featured a level of investment and growth above many companies listed on the stock market and are able to raise up to $75 million in financing.
There are examples in the past of startup founders becoming millionaires, like Elon Musk selling Paypal in 2002 to Ebay for $1.5 billion. At present, executives at big companies like Facebook, Google and Tesla haven't let this opportunity pass them by and have invested in emerging technologies.
Elon Musk, a startups CEO
Tesla, the multinational specializing in electric cars and renewable energy is Elon Musk's flagship company, but it's not his only legacy. As an engineer, Musk founded SpaceX, a company specializing in space transportation; and he wants to launch Hyperloop, a system of high-speed transportation that is still in development. What startups has he decided to establish within his empire?
One of the most conspicuous is Neuralink. It launched publicly in 2017 with the objective of augmenting human capabilities by connecting humans with machines. This development of artificial intelligence, and of human biology itself, would have various aims: to treat medical problems such as mental and physical illnesses, as well as addressing intelligence, memory and perception to deliver super intelligent human beings.
Toward the end of 2016, Musk launched The Boring Company which, although initially dedicated to making tunnels and connecting different parts of the world, became the object of debate by offering flamethrowers to "liven up parties" available for purchase online.
Finally, although it's no longer a startup, it is a good example of sustainable development and growth: SolarCity originated as a company specializing in solar energy and photovoltaic panels. Its growth was such that in ten years it became a Tesla subsidiary, increasing its budget and product, although also bringing with it some controversy due to a 20% cut in staff.
GAFAs also invest in startups
Four of the biggest tech companies in the market, the so-called GAFAs (Google, Amazon, Facebook and Apple), have also grown their company portfolio with both organic and acquired startups. Amazon, which has just earmarked $1 billion for the acquisition of Ring, proposes the simple yet useful idea of using wifi to connect the doorbell to a smartphone.
Google is another multinational interested in the ecosystem of budding businesses and already includes within its ranks some startups to rival Elon Musk's. One of them is DeepMind, which specializes in AI and neuronal networks, competing directly with Neuralink. Google also offers useful business services: Apigee, for machine and program communication and Api.ai, for bot creation. The company even has startups in totally different sectors such as Pulpomatic, which is used to control fleets of vehicles. Recently Alphabet, Google's parent company, made the amount of its investment in startups public: close to $11 billion.
Mark Zuckerberg's Facebook empire has more than joined the startup bandwagon and is making efforts to gain ground on its competitors. Once again, artificial intelligence comes into play. Like the AI aspirations of Tesla's CEO, Meta, acquired by Facebook in 2017, develops AI for medical purposes. Last year Facebook also bought Two big ears, which develops music and audio technology.
Finally, Apple is looking to rival its fellow GAFAs and Elon Musk by betting on startups. Last year it acquired Turi, specializing in AI and machine learning, and Real Face, which is dedicated to facial recognition. With its purchase of FlyBy Media, it has acted on its ambition of entering the field of augmented reality.
BBVA's presence in the startup ecosystem
BBVA's digital transformation process is accompanied by investments in different fintech companies. In 2018, the Group internally incubated Azlo, which caters to the financial requirements of U.S. entrepreneurs and small businesses. And, less than a month ago, another startup Denizen, with origins in BBVA's New Digital Businesses department, launched a solution that simplifies and reduces the cost of international banking transactions. In the area of biometrics, last year BBVA created Veridas together with Das-Nano, as well as a high security system with Covault.
Over and above its investments and acquisitions, BBVA also maintains close ties with the international fintech community of entrepreneurs though the BBVA Open Talent event. This year the competition celebrates its 10th anniversary and will recognize the best startups in three categories: Fintech for Future, Fintech for Business, and Fintech for People. This year the competition also includes 12 new categories where it will look for the best and brightest ideas in the global fintech landscape by creating opportunities for collaboration with the bank and ways to grow their business models.