BBVA channels over 70 percent of its sustainable financing through loans
Loans to wholesale, corporate and individual clients represent 71.6 percent (€61.4 billion) of the €86 billion BBVA has channeled in sustainable financing between 2018 and 2021. These loans are a fundamental part of the sustainable solutions promoted by the bank to identify the opportunities that arise from climate change and inclusive growth. The remaining 30 percent mainly comes from bond intermediation, project finance and socially  responsible investment.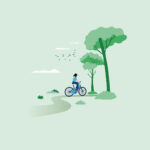 The €86 billion of sustainable origination between 2018 and 2021 have been allocated to two main pillars that guide BBVA's commitment and purpose in the sustainability field: 80 percent for climate action (€68.23 billion) and 20 percent for inclusive growth (€17.59 billion). This amount includes loans, project finance, bond intermediation and socially responsible investment funds.
Within climate action, the bulk of the amount (82 percent) was used to help companies in their transition toward more sustainable productive models. BBVA has advised them based on their client structure (loans or bonds), combining financial knowledge and experience with sustainability.
By segment, this financing between 2018 and 2021 primarily came from Corporate & Investment Banking (CIB, investment and corporate banking operations for large clients), with 64 percent and €55 billion channeled; followed by Businesses and Individuals (retail customers), with 18 percent and €15.4 billion channeled in each segment.
In terms of the breakdown by line of business and type of product, 70 percent of the €55 billion originated through the CIB area corresponds to loans; 22.5 percent to bond intermediation; seven percent to project finance; and 0.5 percent to other types of products. In the Businesses area, 80 percent of the €15.4 billion are loans; 19% bond intermediation; and one percent project finance. And in the Individuals area, 70.5 percent of the €15.4 billion are loans; 26.5 percent are socially responsible investments; and three percent is for other types of products.
Between 2018 and 2021, BBVA channeled a total of €85.82 billion in sustainable activities, distributed as follows: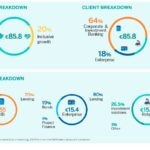 Regarding activity in 2021, BBVA channeled €35.4 billion in sustainable finance, distributed among different solutions for wholesale clients (corporate and institutional), businesses, retail customers and socially responsible investment.
On the social side, BBVA includes business objectives tied to this area with commitments that include inclusive infrastructure, in addition to the BBVA Microfinance Foundation's work in microcredits.
Solutions for wholesale clients
In 2021, in the sustainable corporate loans area, on a global level, BBVA channeled funding linked to meeting social and environmental KPIs, and linked to the client's ESG rating - both in bilateral and syndicated formats. Of these, pioneering operations in the food sector stand out. 
In Spain, BBVA has been a pioneer in incorporating mechanisms to donate part of the margin to sustainable or charitable projects, and it remains one of the top banks in the sustainable finance market, leading several significant operations as sustainable coordinator for the fifth consecutive year. The bank has also led versions of the main syndicated financing in Germany, the U.K., Belgium, Mexico, Peru and Colombia.
Furthermore, in 2021, BBVA continued to be very active in sustainable project finance, participating in the channeling of €1.28 billion of sustainable financing. It was primarily allocated to renewable energy projects, self-consumption and energy efficiency projects, sustainable transportation projects, sustainable agriculture financing, social projects in the health sector, and telecommunications as a means to facilitate access to new technologies, and sustainable infrastructure projects.
In addition, BBVA was the top bank for green, social, and  sustainable bonds issues, and bonds tied to environmental indicators for clients in the U.S., Mexico, South America, Asia and Europe, including Spain, representing a total volume of €6.68 billion intermediated by BBVA.
Similarly, in the transaction banking area, BBVA signed operations totaling €4.96 billion, using its sustainable transaction banking framework.
Sustainable solutions for retail customers
BBVA proactively accompanies its retail customers in adopting more sustainable habits that help to reduce their CO2 emissions. The bank is also committed to data-based tools and solutions that help these customers track their consumption and emissions. The sustainable solutions offering in countries where BBVA operates includes  products designed for mobility, such as financing lines for the purchase of hybrid and electric vehicles, green mortgages for sustainable housing and loans to improve the energy efficiency of homes.
In 2021 in  Spain, BBVA became the first bank to use data analytics to calculate the carbon footprint of its individual customers, obtaining an estimate of the amount of CO2 emissions based on natural gas and electricity bills, and fuel expenses.
Furthermore, the retail area is promoting the inclusive growth line, channeling resources to build infrastructure and support inclusive economic growth. Within this line, the products designed for individuals are credit products (cards, loans and mortgages) that meet the income and/or vulnerability thresholds set by each country. The social mortgage in Peru and Colombia stands out in this regard, as it is geared toward segments of the population with lower purchasing power, for whom the government subsidizes part of the mortgage.
BBVA also supports entrepreneurs, granting loans to individuals or legal entities that began an economic undertaking within a three and a half year period, and grants financing to microenterprises - provided they comply with invoicing thresholds established in BBVA's social taxonomy for each country. In this segment, the program to finance women entrepreneurs in Turkey stands out, as it gives women with small and mid-sized businesses access to loans in preferential conditions.
In addition, BBVA also helps to channel savings from this type of customers toward sustainable investments.
In 2021, BBVA channeled a total of €6.47 billion in sustainable finance for retail customers, with €4.25 billion in Spain, €1.11 billion through the BBVA Microfinance Foundation, €548 million in Mexico and €350 million in Turkey.
Sustainable investment solutions
In 2021, BBVA Asset Management, the group's investment management unit that encompasses all of its asset management activities around the world, made significant progress integrating sustainability. It entailed the following aspects: a) incorporating non-financial criteria, so-called ESG factors, in process related to investment decisions and risk control for vehicles and portfolios managed by the bank b) a commitment to the best sustainable investment practices, which in 2021, meant joining the United Nations' Principles for Responsible Investment, committing to the Net Zero Asset Managers Alliance to ensure portfolios are net zero in emissions by 2050, and participation in other joint initiatives with companies and governments; and c) investment exclusion policies for companies that belong to sectors considered intrinsically harmful for society.
Moreover, BBVA Asset Management has expanded its sustainable product offering in 2021. This includes four new investment funds (two in Spain, one in Mexico and one in Peru) and seven pension plans (six in Spain, one in Portugal). Total assets managed with sustainable solutions amounted to €5.60 billion at the end of 2021, and net fundraising was €1.56 billion.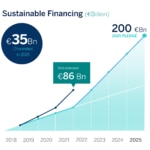 Accelerating the sustainable finance target in the 2018-2025 period
BBVA's global sustainable solutions offering, which aims to support energy efficiency and the decarbonization of the economy, has led to 72 percent growth year-on-year in financing over 2020, which brings the bank closer to its goal of channeling €200 billion for the 2018-2025 period. In the year 2021, of the total amount of new origination of business in the Group, approximately 12 percent has been linked to sustainability.
BBVA incorporates the risks and opportunities from climate change in its investment decisions and financing. The bank promotes sustainability in each of its operations and products. It currently has a catalog of sustainable alternatives for all of its products in Spain and will continue in this path in the other geographic areas where it operates.